Barely 2 weeks after his wife files for divorce, Mel Gibson makes a public appearance with his girlfriend Oksana Grigorieva, at the Los Angeles premiere of "X-Men Origins: Wolverine.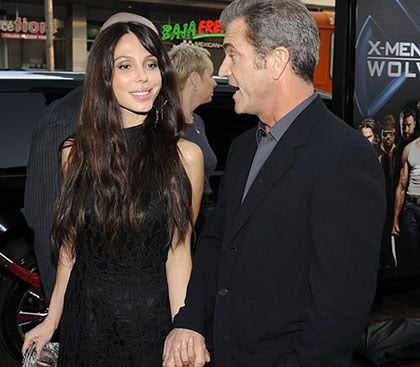 She is supposedly a singer and is signed to Mel Gibson's music label (Blank Stare). Alrighty then. SMH

Sources say the couple had been seperated for the past 3 years, so he wasn't being insensitive when he appeared in public hand in hand with his girlfriend merely 2 weeks after the divorce filing. (Blank Stare)

There are rumors circulating that Oksana is knocked up by Mel Gibson and that was the reason his wife Robyn filed for divorce.

Now ain't that TRIFE...if it's true. Only time will tell.

Anywho, After nearly 30 years together and 7 kids...I'm sure Mel's wife will take great pleasure in possibly getting nearly $400 Million or more in their divorce settlement.