Simon Cowell and singer Sinitta had a long term relationship and were engaged back in the 80's. However, their breakup did not stop them for continuing an unbreakable friendship...Even to this very day (as the pictures show) Simon Cowell and Sinitta are extremely close. Simon is even the "God Father" To Sinitta's 2 children.
In the A & E Biography series that featured Simon Cowell...Simon speaks about how he was very much smitten with Sinitta and pursued her!
Several months ago (December 2008), a magazine printed the following story about Simon and Sinitta...leading folks to wonder if in fact the two were back together. The article is listed below:
Simon Cowell is spending Christmas in Barbados with his ex-lover/ex-fiance' Sinitta and her two children - but her husband will not be there.

X factor supremo Cowell has already flown out for a month-long break with Sinitta and her children Magdalena, three, and two-year-old Zac, who she adopted with husband Andy Wilner last year.

But instead of joining his wife Wilner will be spending the season with his family and elder children from a former marriage.

The Eighties popstar has also been accompanying close friend Cowell to high-profile events since his break-up with long-term girlfriend Terri Seymour earlier this year.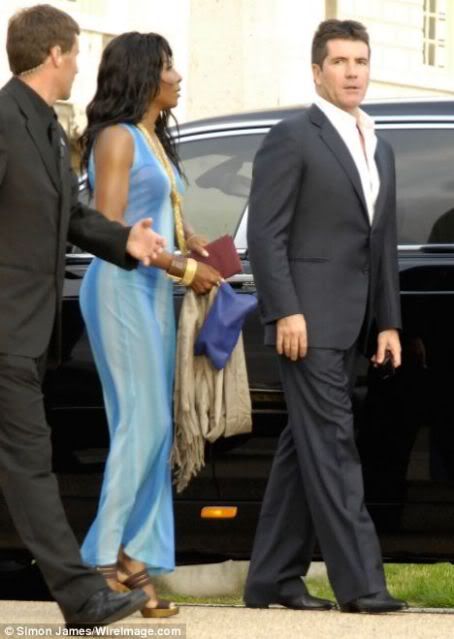 In an interview with Hello magazine Sinitta talked about her close relationship with Cowell, and how her children think he is 'the real Father Christmas'.
'He loves the children so much,' said the 40-year-old.
'I think he's surprised himself with how much time he likes to spend with them. It's a big chunk of normality for him to be with these two little people who are so innocent and have no agenda.

'He finds the things they say so funny and, of course, they're just crazy about him. he plays with them and mucks around, so they know the minute they see Simon, they're going to have a good time.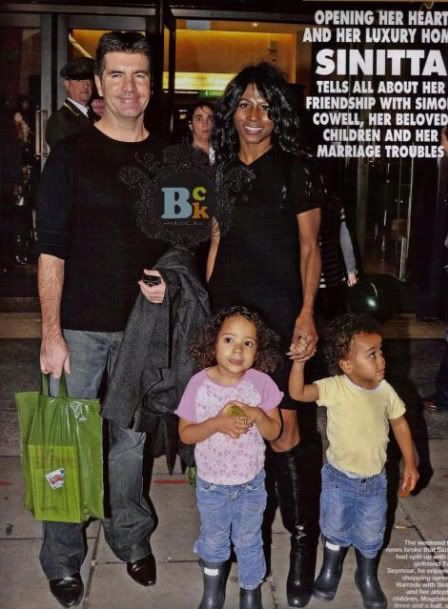 'There are lots of laughs, lots of treats - I think they actually think Simon is the real Father Christmas.'

The holiday will be the first time Simon and Sinitta have been away together since her marriage. They will be joined for periods by friends including Paul McKenna and American Idol's Ryan Seacrest.

Cowell has had a busy year - guiding Leona Lewis in her conquest of America, and working on series of American Idol and the X factor.
Sinitta said he needed time to recuperate.

'We're so ready for this now,' she said. 'Simon's been so flat out with work, he's pretty much on his knees. And it's been a difficult and emotional year for me too.

'There's been lots of good stuff too, but it will be nice to be in an environment where the world stops for a few weeks.'
In addition...Sinitta dated acter Brad Pitt for 2 years in the 80's! Brad Pitt also dated actress Robin Givens
!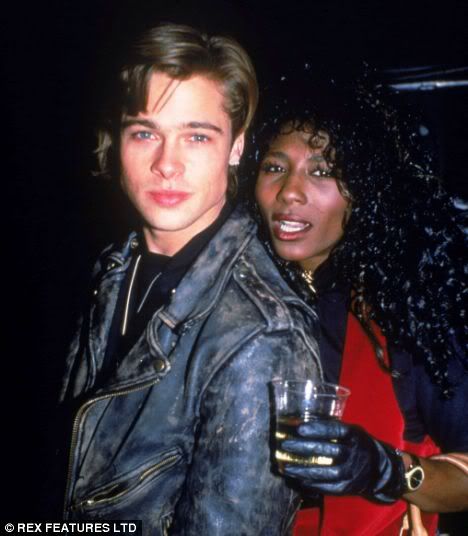 To view The Original Posting Of "The Chocolate Chick's Special Edition Post: Influential White Men Who Aren't Afraid To Date And/Or Marry Black Women, Just check out the following link:
http://thechocolatechick.blogspot.com/2009/03/chocolate-chick-special-edition-post.html
Simon & Sinitta Updated: 10.10.11
Sinitta speaks about her long term relationship and friendship with Simon Cowell. Even though they had a turbulent romantic relationship before and are not together romantically now, they remain extremely close even today. In addition, Sinitta is an "X Factor" mentor on Simon's show in the UK.
Deets below via Mirror:
Eighties star and X Factor mentor Sinitta has accused Simon Cowell of being a serial cheater.
The So Macho singer claims the X Factor boss cheated on her with a lot of women during their on-off 20-year relationship.
Simon, who recently admitted that he once enjoyed three-in-a-bed sex, would disappear regularly and Sinitta would have no idea where he had been.
42-year-old Sinitta told the People newspaper: 'I caught him out a few times but Simon's a master of denial.'
Simon and Sinitta, who were together on and off for 20 years, began dating when Sinitta was just 14.
She was his first ever signing and became a huge star, while Cowell remained for many years a nobody
As the relationship progressed, however, Sinitta knew that she could not trust him.
'You know that song by Shaggy called It Wasn't Me, where he is caught out every time by his partner but still denies it was him? Well it was just like that.
'He likes all women, all sizes, all ­colours, all nationalities.'
Sinitta, who describes Cowell as a 'horny salty dog', thinks that Cowell's tatse in women has changed now he is older and he prefers to go for women with a personality rather than just good looks.
In a US radio interview this week with controversial shock jock Howard Stern, Simon admitted that he was unsure if he was still engaged to Afghan-born make-up artist Mezhgan Hussainy.
Hussainy, 38, is thought to have relocated to another of Simon's properties, nicknamed the 'girlfriend graveyard' by the music mogul's friends.
A member of staff at the house, which is located near to Cowell's Beverly Hills mansion, confirmed to the Mirror: 'Yes, she is living here. She is here now.'
The move is the latest indication that Cowell and Hussainy's 18-month engagement is off.
Sinitta told the newspaper: 'Mezhgan will know what is going on. Maybe he's been dumped and doesn't know, but you can never tell with Simon.
Btw.. Simon recently said he continues to take care of his girlfriends financially after they break up because he wants them to continue the luxurious lifestyle he brought them into. - His fiance' (well if they are still together) must be crazy to allow this. That ish would have to stop with a quickness!

Vid date around May 2010. (Just an observation, In the following video, Sinitta seems to know a little too much about Simon's engagement or relationship, and she comes off in the video a wee bit "jealous".)