Teresa Giudice of "The Real Housewives Of NJ" blew up at castmate Danielle Staub who asked a question about Teresa's nephew. This caused an outright eruption from Teresa who went in on Danielle and even slammed show host Andy aside... So what was all the fuss about... Take a look at the clip first....
Anywho... it seems that after the episode aired Caroline Manzo blogged that she was "shocked" by Teresa's behavior on the show.. below is a tidbit of what she had to say about the show.. and she implies that they will not be back for a 3rd season. (Bravo has not confirmed the status of the show):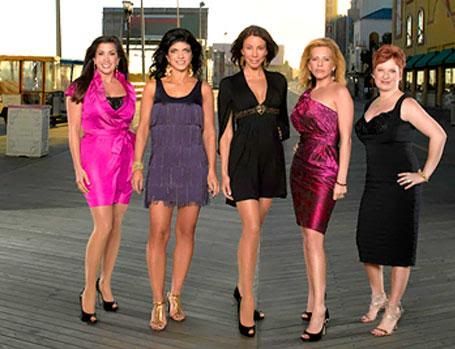 I'm ready to take the first exit off the crazy turnpike. There's no denying that this reunion was literally the modern day version of the OK Corral. We filmed for ten hours. TEN HOURS. It was one of the most frustrating and mentally exhausting things I've ever done. You need to understand the process.

First things first. I expected yelling, screaming, and tears. I NEVER expected Andy to get tossed like a rag doll. I was in complete shock when that happened. Actually, I had to compose myself because I wanted to cry. Seriously, I did. When Teresa jumped off the couch and approached Danielle it was literally within the first ten minutes of filming. The only thing going through my mind at that moment, beyond the obvious WTF is going on, was that I couldn't sit through hours and hours of this. If this is happening now, what's it going to be like when we get to the real issues? Thank God it never got to that level again, it was an ugly moment. Ugly, ugly, ugly.

There was absolutely no way in the world I was going to sit quietly and listen to the lies and accusations that were being tossed around. My reactions were genuine and heartfelt. I wasn't playing to the cameras, and I wasn't looking for anyone's sympathy. Those ten hours were my last chance to say what I had to say. It was the last time we were all going to be together and there were some issues that needed to be addressed. I take full responsibility for what I said, and how I presented myself. Trust me, I had a range of emotions as I watched from happy to sad, proud to embarrassed. That makes me just like the rest of you … HUMAN.

Next week is our last episode. I have my blinker on, looking forward to exiting the "crazy turnpike" and finding the "sunshine and lollipop highway"….. wish me luck.
Teresa & Her Brother
With all the hollering, cussin, and yelling.. it was a little difficult to understand while watching the show.. what set Teresa off. Well it seems the web has run amuk with claims that Teresa's family disowned her brother because he "married" a black woman and they had a son.. who would be Teresa's nephew.. On the show.. Danielle asked Teresa "Did you acknowledge your nephew?" Teresa responded.. "Yes.. Of course I did".. I guess she was a little short on the uptake.. after a few seconds.. she unleased as shown in the vid above. Danielle was basically implying that Teresa REFUSED to see her nephew because he was half-black.

This has not been confirmed by Teresa's brother or his wife. I'm sure more of this story will unfold in the coming days and weeks.... With all that being said..
Part 2 of the Reunion show will air Monday, September 6th.
9.02.10 - UPDATE: A plethora of stories continue to make rounds about who Teresa's nephew is.. now folks are saying the nephew is Teresa husband's love child with her sister Nicol... Who knows what the truth is... the interesting thing is that Teresa nor Joe have tried to explain either way... that's strange given what they are being accused of.