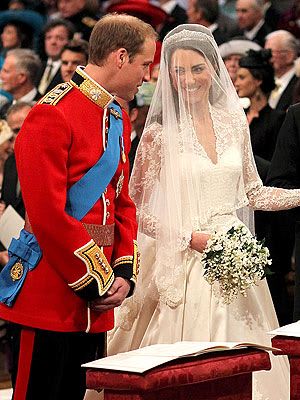 The anticipation of the most talked about wedding of the year.. hell the decade finally arrived! With millions of people at Westminister Abbey to the tens of millions who eyes were glued to their tv & monitor screens, we watched the Princess Diana's oldest son Prince William wed. It was such a beautiful moment to see.



With millions around the world watching, Prince William & Catherine Middleton became husband and wife Friday morning – now titled Duke & Duchess of Cambridge – at London's Westminster Abbey.

"I, William Arthur Philip Louis, take thee, Catherine Elizabeth, to my wedded wife, to have and to hold from this day forward, for better, for worse," William vowed. "For richer, for poorer. In sickness and in health. To love and to cherish, till death us do part."

With brother and best man Prince Harry, sporting the uniform of Captain of the Household Cavalry, by his side, William, 28, wearing the scarlet uniform of the Colonel of the Irish Guards, slipped a traditional Welsh gold wedding band on Middleton's finger, saying, "With this ring, I thee wed."

The couple also wrote their own prayer for the occasion. "God our Father, we thank you for our families; for the love that we share and for the joy of our marriage," they said. "In the busyness of each day keep our eyes fixed on what is real and important in life and help us to be generous with our time and love and energy. Strengthened by our union help us to serve and comfort those who suffer."

Kate, 29, arrived to the Abbey in burgundy-and-black-colored Rolls-Royce, not a carriage, opting for a "lower-key arrival,".

Guests such as Elton John and Victoria and David Beckham, just a few of the A-listers among the 1,900 who received an invitation, sat in chairs faced inward toward the aisle as Middleton walked toward her prince during the hour-long ceremony.

Afterward, Queen Elizabeth was set to host a post-wedding breakfast of champagne and canapés at Buckingham Palace for 600 guests.

At 7 p.m., Prince Charles will throw a dinner dance for about 300 guests in another one of the palace's state rooms.

Before the wedding, the bride spent her last night as a single woman in the Royal Suite of the Goring Hotel, a stone's throw from Buckingham Palace. William, meanwhile, stayed with his father and brother at the Clarence House.

Still, their true fairy-tale moment is yet to come: The couple are expected to arrive on the balcony of Buckingham Palace at 1:25 p.m. for a much-anticipated kiss –in the very same spot Prince Charles and Princess Diana famously kissed 30 years ago
.
Via People

So happy for the newlyweds! It was a beautiful wedding!