Friday, July 29, 2011

Brandy is going to unleash "The Voice" when her new album drops!!!!!
Posted by

The Chocolate Chick
at Friday, July 29, 2011
No comments:

Thursday, July 28, 2011


Every since Jennifer Lopez and Marc Anthony shocked everyone with the news of their breakup, people were too busy wondering if the two, who have mega business deals together including a new Latin Dance reality show, would try to work things out in the future. The couple has 3 yr old twins Max & Emme.



Immediately reports came out that J.Lo was romancing her video lead in latest video since he divorced his wife a few months ago, that appeared to be a rumor, then she was linked back with Ben Affleck, who is married to Jennifer Garner and has two kids.. well that turned out to be wrong as well. Then the bomb dropped.. rumors that J.Lo was seeing none other than her ex-boyfriend Diddy.

Now back in the day, Diddy and J.Lo were THE couple in Hollywood. Things went sour right after the club incident. (Won't go into details). Some believe that J.Lo abandoned Diddy when he needed her to be by his side. But due to her "management", they told her Diddy would ruin her career with what had happened with the club incident. They broke up and soon thereafter, J.Lo was marrying a backup dancer.

So now.. years have passed, they have matured and perhaps are better equipped to handle a second go around if the rumors are indeed true. They both even have a set of twins.


Diddy with ex Kim Porter & Their twins Jessie & D'Lila (Diddy also has another son with Kim as well as pretty much raising and being the Dad as well to her Older son Quincy, who's biological father is past R&B star Al B. Sure. Diddy has six children in total.



J.Lo nor Diddy have confirmed the reports that they are back together, but close sources told BET and other legit media that they are together. They were even spotted having dinner recently.

Would love to have been a fly on the wall when Marc Anthony found out this news

Flashback: Jennifer Lopez's MTV Diary episode. Diddy appears in Pt. 3 (2000-2001)




Posted by

The Chocolate Chick
at Thursday, July 28, 2011
No comments:

Friday, July 1, 2011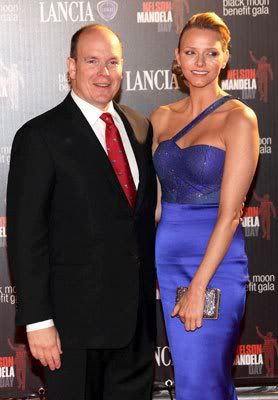 After a bit of pre-wedding drama....
They had a very interesting exchange of vows...
Side Note: Maybe it's just moi... but they did NOT seem actually thrilled or happy. Hopefully they will perk up before the wedding ceremony on Saturday.
Via AP:

There's a new Princess of Monaco: Prince Albert's South African bride Charlene Wittstock, who on Friday married the reigning prince in a civil ceremony that was part of a larger itinerary of royal events.

The bride, 33, wore Chanel palazzo pants and a jacket while the groom, 53, donned a dark suit and white tie to exchange vows in front of Philippe Narmino, president of Monaco's Council of State. "I declare you united by the bonds of marriage," Narmino said, officially making Wittstock "Her Serene Highness."

Princess Stephanie and Princess Caroline, Albert's sisters, were among those in the audience in the throne room. Only 80 family members, friends and dignitaries witnessed the 20-minute ceremony, according to the Daily Telegraph. After the ceremony, the newlyweds appeared at a palace window, waved at the cheering crowd and kissed each other shyly, sparking another round of cheers.

"Vive le Monaco, thank you and happy celebrating," the prince told the crowd, his bride at his side.

The ceremony Friday at the palace was far from the spectacle that surrounded the April wedding of Prince William and the former Kate Middleton, now the Duke and Duchess of Cambridge. However, on Saturday, the newest royal couple will hold an elaborate Catholic wedding ceremony with 3,500 guests in the palace courtyard and a star-studded wedding gala to follow.

The festivities started with a non-royal treat on Thursday night: a free concert by the Eagles. Then about 5,000 of Monaco's 7,618 citizens and their guests -- many decked out in suits and fancy dresses in the hot sun -- followed the ceremony Friday on oversized screens set up on a square in front of the palace. Post-ceremony cocktails on the square were to follow, leading into a concert by French composer Jean Michel Jarre and a laser light show.

You just have to love Monaco, right? Something about the French Riviera ...

The guest list for Saturday's festivities includes the kings of Spain, Sweden, Lesotho and Belgium, the presidents of France, Iceland, Ireland, Lebanon, Malta, Germany and Hungary, France's richest man, celebrated opera singers, top models and race car drivers, with three-time triple-starred Michelin chef Alain Ducasse preparing a three-course meal.

The bride, a swimmer in the 2000 Sydney Olympics who was born in Zimbabwe but raised in South Africa, met Prince Albert at a swimming competition in 2000. Albert has been an International Olympic Committee member since 1985 and competed in five Winter Olympics as part of Monaco's bobsled team.

Grace Kelly, the previous princess, died in 1982 in a car accident. She and Prince Rainier III, Albert's father, married in 1956 and had three children together. Prince Albert has admitted fathering two children out of wedlock. Rainier died in 2005 at age 81 after being treated for heart, kidney and breathing problems.

Earlier in the week, palace officials denied a French tabloid report that Wittstock had tried to leave from nearby Nice airport on a one-way flight to South Africa, and had required intense convincing by the prince and his entourage to stay.

"The sole intention of these rumors is to seriously damage the image of the Sovereign, as a result of damaging that of Miss Wittstock, and bear down on this happy event," the palace said in a statement.
Posted by

The Chocolate Chick
at Friday, July 01, 2011
No comments: