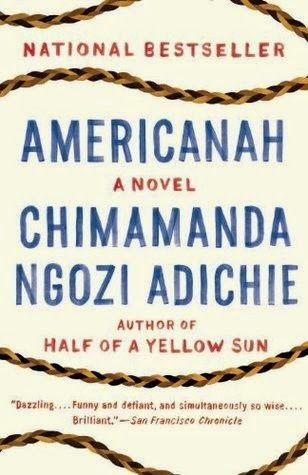 I'm so excited about this month's book of the month pick. September's choice is by an author who has become one of my favorite literary storytellers. Chimamanda Ngozi Adichie's novel,
Americanah
, is the book pick for September.
Adichie's phenomenal novel,
Half of a Yellow Sun
, was a previous book of the month pick back in December 2013.
Half of a Yellow Sun
was an exceptional read. The gift of creating dynamic characters, visual landscapes, saga filled prose written beautifully, quickly catapults Chimamanda Ngozi Adichie's books, in my opinion, to classic reads.
Americanah
will surely turn out to be another fantastic story that tackles serious issues in a way...that through humor, honesty and rose colored glasses that are ripped away... shed light on reality through a fictional tale that folks should immediately add to their TBR lists.
As always...happy reading.
Synopsis:
One of The New York Times's Ten Best Books of the Year Winner of the National Book Critics Circle Award for Fiction
An NPR "Great Reads" Book, a Chicago Tribune Best Book, a Washington Post Notable Book, a Seattle Times Best Book, an Entertainment Weekly Top Fiction Book, a Newsday Top 10 Book, and a Goodreads Best of the Year pick.
A powerful, tender story of race and identity by Chimamanda Ngozi Adichie, the award-winning author of Half of a Yellow Sun.
Ifemelu and Obinze are young and in love when they depart military-ruled Nigeria for the West. Beautiful, self-assured Ifemelu heads for America, where despite her academic success, she is forced to grapple with what it means to be black for the first time. Quiet, thoughtful Obinze had hoped to join her, but with post-9/11 America closed to him, he instead plunges into a dangerous, undocumented life in London.
Fifteen years later, they reunite in a newly democratic Nigeria, and reignite their passion—for each other and for their homeland.
HALF of a YELLOW SUN
was adapted into a film starring Chiwetel Eiofor and Thandie Newton. Add the movie to your collection.