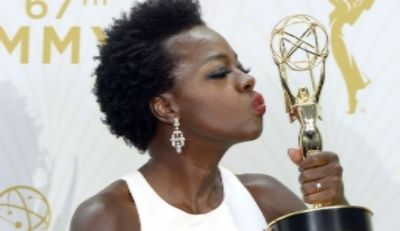 The Emmy awards Sunday night were historic and shined a light on amazing talent getting the recognition they deserve. Viola Davis made history by becoming the first Black actress to win Outstanding Lead Actress in a Drama Series. Davis gave a powerful and inspiring speech.
Uzo Aduba also won big. She won Outstanding Supporting Actress in a Drama Series. She'd won previously, when "Orange is the New Black" was presented as a Comedy series.
Regina King took home the win for Outstanding Supporting Actress in a Limited Series or Movie. This year's Emmy Awards were a huge year for women of color. Congrats to all of the nominees and winners.
Of course...it isn't surprising that someone would forget about "white privilege" and throw shade at such a historic and wonderful night.
Soap Opera actress, Nancy Lee Grahn, had the nerve to tweet her disdain and displeasure at Viola Davis' Emmy speech.
There were many tweets but the one that set off a firestorm was her ignorance with the following tweets:
"Im a f*****g actress for 40 yrs. None of us get respect or opportunity we deserve. Emmys not venue 4 racial opportunity. ALL women belittled."
CHILE!!! She continued...
"I wish I loved #ViolaDavis Speech, but I thought she should have let @shondarhimes write it. #Emmys" — Nancy Lee Grahn (@NancyLeeGrahn) September 21, 2015
Immediately Black twitter (and others who were just as outraged) dragged Nancy down a street she found out was the wrong turn. She attempted to correct her swerve out of her lane, but, she hit a brick wall.
The nerve to even compare her experience in Hollywood with that of Viola Davis is absurd and delusional. Nancy's tweets were based on salty and bitter feelings. She's jealous. Point blank and the period.
Some folks should learn when to back away from social media.