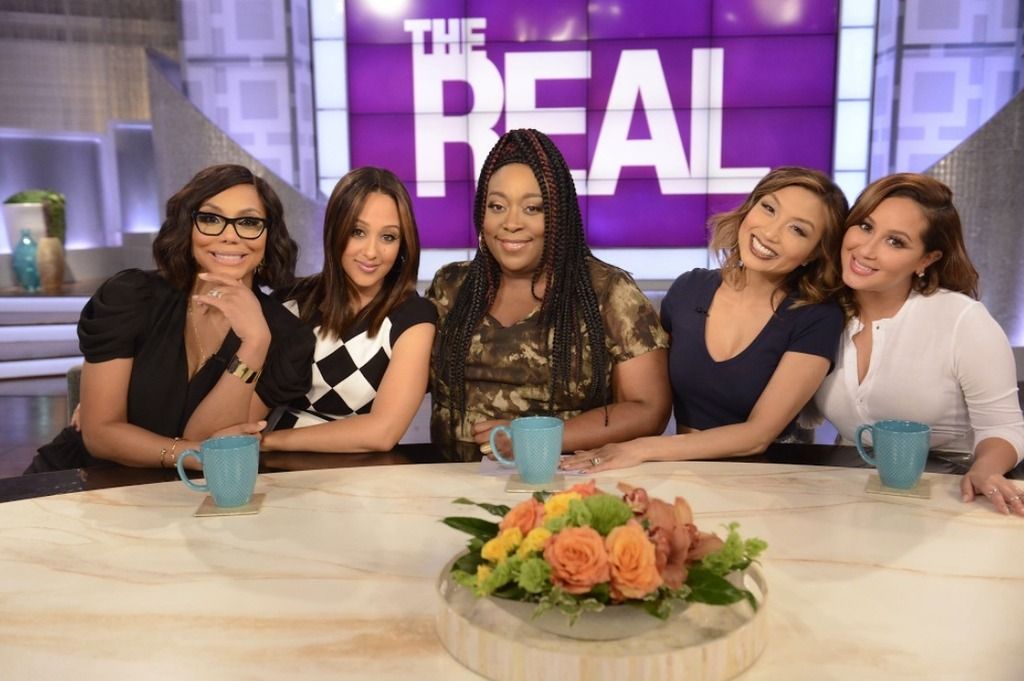 Was Tamar Braxton fired from her hit daytime talk show?
The story broke on Saturday. The news quickly spread throughout social media and fans did not hold back their opinions on the subject, including bombarding co-hosts Loni Love, Jeannie Mai and even Adrienne Bailon with their venom, hoping to find out who betrayed Tamar.
An official announcement was released on Sunday from
The Real
confirming that Tamar Braxton would not be returning for the third season of
The Real
. The statement claimed it was a mutual decision.
On Saturday, prior to the announcement from
The Real
, Tamar posted a cryptic message on Instagram stating that she would be taking a break from social media and eluded to the fact that someone she trusted, stabbed her in the back. As one can imagine, folks began speculating as to who was behind the betrayal.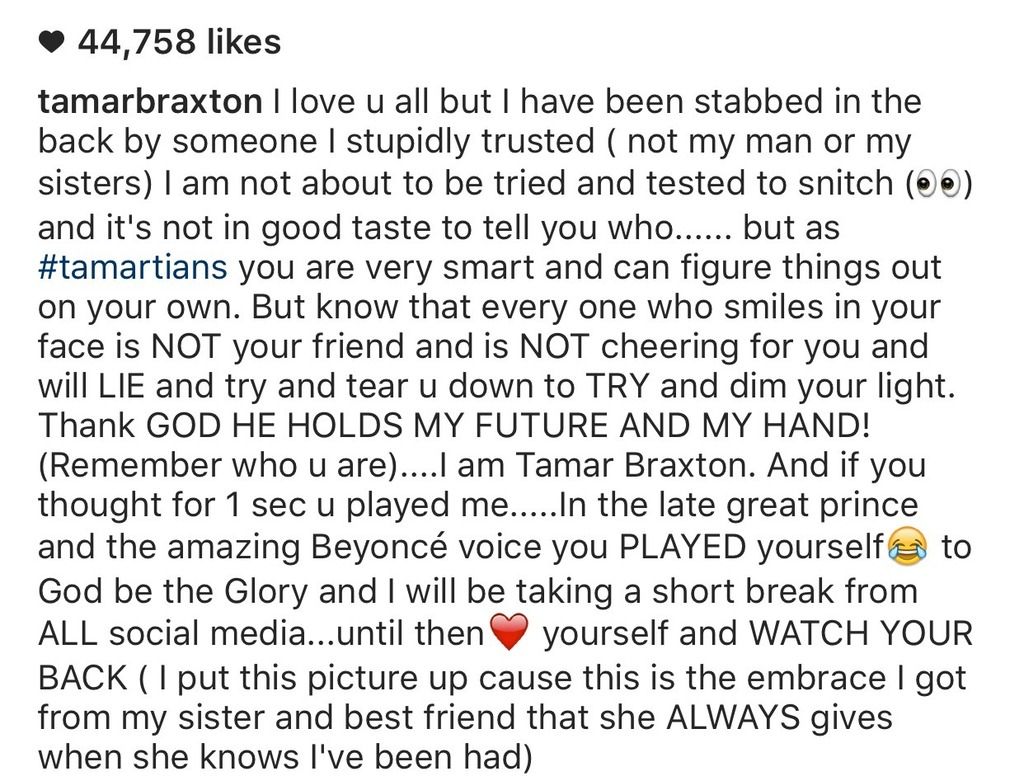 Many are speculating that Tamar was referencing one or more of her co-hosts, specifically Jeannie Mai and Loni Love. Tamar seems to have stopped following Loni Love, Jeannie Mai and The Real Daytime on social media. Tamar is still following Tamera and Adrienne. The interesting part is the fact that Tamar appeared to be good friends with Loni Love. In addition, Jeannie Mai and her husband went out with Tamar and Vince. Several reports state that all of the co-hosts were blindsided by the news that Tamar was fired. At this time, there hasn't been any confirmation that it was a co- host. It appears to have been the decision of the executive producer.
There are too many conspiracy theories going around about the possible reasons Tamar was fired from
The Real
. The official statement claims that Tamar Braxton wanted to focus on her solo career.
While it is not surprising to see a daytime panel show change up co-hosts, the firing of Tamar Braxton is actually quite shocking. Tamar Braxton is known for her exuberant personality. Folks are either going to love it or hate it. But that pretty much sums up everyone's attitude or personality as it pertains to how it is received or perceived by others. Fox, Warner Bros. and the executives running
The Real
knew what they were getting when they signed Tamar on to be a co-host. They also knew she would be a hit with viewers.
I firmly believe that was one of the main reasons she was initially hired. With that being said, this is the pertinent reason as to why the standard "PR" statement that went out over the weekend was BS. Tamar's personality is what made her stand out from other cookie cutter prototypes on television. There are only a few television personalities that can pull that off successfully. In addition,
The Real
had a formula that was working for them. Each and every co-host had a place at that table and viewers enjoyed the "realness" of the ensemble cast.
So after two seasons, nearly 200 shows, Daytime Emmy nominations, multiple renewals and enthusiastic viewership; viewers are now suppose to believe, if the rumblings are correct, that Tamar Braxton did not test well with the audience, did not get along with production and didn't fit with advertisers?
If that was the case, Tamar would not have passed the initial test run in 2013, given a producer title and her own segments. Now keeping it "real"...I'm sure there were some viewers who didn't like Tamar as a co-host, but that was equal sentiment to several of the additional co-hosts as well. You will not have a person who is liked by everyone. It isn't going to happen.
But what you did get with Tamar was someone who definitely kept it real, which is what the viewers were expecting. To disrupt a winning formula, especially within the daytime talk show panel game, is ludicrous.
If there was some type of friction between production or with the co-hosts, as adults and professionals, seemingly something could have been worked out for the sake of saving the dynamic of the show. There isn't anything else on television like the ensemble of
The Real
. The diversity was key.
Someone at the top should have realized that fact and fixed the issue. It was quite obvious from Tamar's Instagram post that she was blindsided and felt betrayed by someone, so it was insulting to the audience to read a fake "PR" release.
The Real
stood on the principle of keeping it real. Yet, it was revealed to be anything but.
The entertainment industry is cut throat and scandalous...that goes without saying. But, when you have a person work their ass off, show top notch work ethic, arrive first at the studio, encourage millions of fans to tune in daily and bring a fresh new stamp to daytime television....seemingly that would be rewarded and appreciated.
Perhaps the powers that be should read the comments on social media and on their Youtube videos. Somebody made a costly error.
I am not taking anything from the other co-hosts, because the entire panel was entertaining and it worked. However, one of the co-hosts has now been removed. The dynamic will change. It is not what viewers signed up for.
Once Tamar gets over the fact that she was used for two years to boost ratings and viewership and then removed when the mission was accomplished...I'm sure she will be okay and move on to bigger things that God has in store for her.
Also, folks should stop harassing the other co-hosts. That is simply not cool. Congrats to Tamera, Loni, Adrienne and Jeannie for continuing on with the groundbreaking show.
Check out a few clips from The Real:
UPDATE:
The co-hosts of
The Real
each posted messages for Tamar Braxton last week. Loni Love also released a video explaining things from her point of view.
As previously stated, it appears to have been an executive producer who was the person behind the firing. At this point, nothing has been officially confirmed. However, that is about to change.
On next week's episode of
Braxton Family Values
, Tamar Braxton is set to tell what really happened that led to her departure from the show.
Braxton Family Values
airs Thursdays at 9PM on Wetv.