Who doesn't know celebrity chef Bobby Flay? Well..if you don't, he is a highly successful chef and owns several restaurants. He has several shows on the Food Network and has also had a well known "close" friendship for years with fellow celebrity chef Giada De Laurentiis.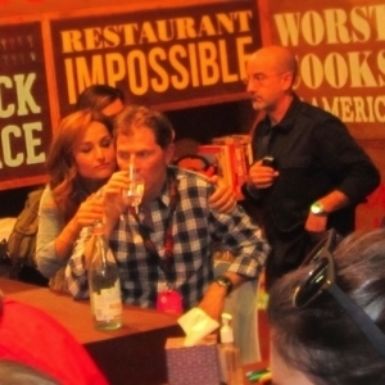 Bobby and Giada - Cozy 2013
There have been rumblings that Bobby Flay strayed a bit and allegedly had a fling with actress January Jones. Well to add fuel to the fire...or rather grease to the pan...(get it? LOL) Jones gave birth to a son (Xander Dane Jones) back in September 2011. While several men were reportedly "possible" suspects to being the child's father, Bobby Flay's name was thrown in the mix as well. It didn't help matters when January Jones chose not to reveal the identity of her child's father. However it was during a minor car accident that Jones had that got folks talking, because the person who arrived on the scene was none other than MARRIED Bobby Flay. Supposedly he later stated he didn't know why she called him, they were both at the same location earlier watching a game. (BLANK STARE)
By the way...it is just pathetic and a sad fact that folks can literally list several men that could be the father of your child. In a very short time span? Chile! (Ho...Ho...Ho..*Cough* When is Christmas again? Not January! LMAO)
Hell, even ABC News covered the Baby Daddy Mystery.
Anywho...it seems that Bobby Flay has filed for divorce from his wife of ten years. The two have no children together, but they do have a little pre-nup. Reportedly, Flay's wife had suspicions about Bobby and January Jones as well. Wonder if she had any suspicions about Bobby and Giada?
Bobby and Giada on The Rachel Ray Show
Well it seems to me that it is mighty odd and perhaps one hell of a coincidence that BFFs Bobby Flay and Giada both left their spouses within just a few months of each other. As a matter of fact, the day before Giada announced her split from her husband, she was spotted out with Bobby Flay having dinner. Folks immediately started speculating something was going on. Well of course they've denied this.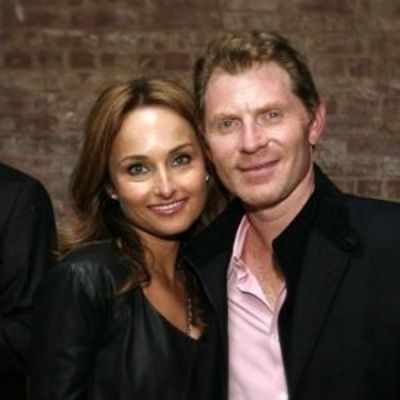 But catch these teas...it didn't take a dinner before Giada's announcement to make me raise my eyebrows at them...I mean it ain't none of my business, but I watch the Food Network and the Cooking Channel, and let's just say that when Bobby Flay and Giada have been on a show together...there were always some serious sparks going on. The two have major chemistry.
Only time will tell if in fact the two chefs are planning on uniting their media and culinary dynasties.
As for January Jones...hopefully she has a good health plan.