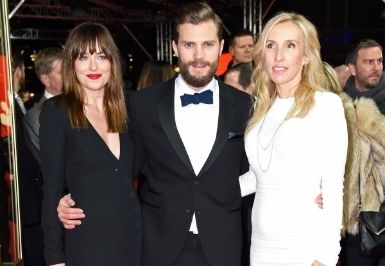 Although the film, Fifty Shades of Grey, has pulled in over $500 million dollars and will see epic blu-ray, dvd and digital sales when an unrated version is released May 1, this will not be enough to keep Sam Taylor Johnson at the helm of the project in the director's chair for the next two Fifty Shades of Grey films.
While many have panned the film, there are folks who obviously liked the film, or rather "tolerated" it. However it seems that the tension on the set between Taylor-Johnson and author, E.L. James, over artistic issues is part of the reason for Taylor-Johnson's departure. On that note, the screenwriter has also dropped from the project. It will be interesting to see if the stars of the film, Jamie Dornan and Dakota Johnson, return to the roles of Christian Grey and Anastasia Steele. There seems to be an issue about how much the stars will make for the second film. One producer of the film supposedly lashed out at the fact that the stars reportedly wanted more money.
Really? The film is a financial success. The stars deserve a piece of the pie. The two made basically NOTHING for the first film. Give them their due. Fair is fair.
Side Note: The initial problem of the film process in the beginning was the fact that the casting drama caused a rushed and desperate vibe surrounding the project, which was obviously on a deadline. The script could have been better and the two actors needed more chemistry. However it seems they did the best they could do on what they were given and based on the time frame of the male lead casting choice. The leads need to develop more chemistry for the upcoming films.