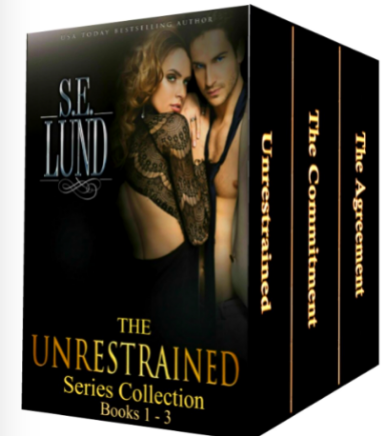 The Unrestrained series by S.E. Lund is a must, must read. The series is comprised of three novels, The Agreement (Book One), The Commitment (Book Two) and Unrestrained (Book Three).
Unrestrained centers around college student, Katherine McDermott, who is from an affluent and influential upbringing and Dr. Drake Morgan, a gorgeous and wealthy Neurosurgeon, who is a Dominant and enjoys a bit of BDSM in his life. The two meet under interesting circumstances and their connection is instant and explosive.
This is a page turning romantic drama that will leave you rooting for these two to make it through the various storms they encounter on the road to love.
As always...happy reading!
You can purchase each title separately or purchase the three book bundle. Currently the kindle edition for book one in the series, The Agreement, is available for free. Link --->
THE AGREEMENT (Book One) Link
The link to the complete Unrestrained Series bundle is here --->
THE UNRESTRAINED SERIES BY S.E. LUND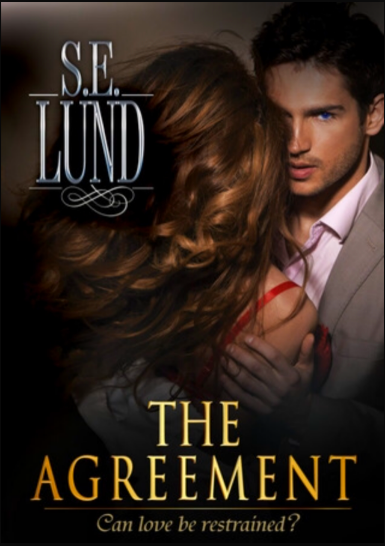 THE AGREEMENT (Book One)
Synopsis:
Kate McDermott is a good girl who has done everything she can to please her very powerful and domineering father -- a Justice on New York's Supreme Court with hopes for political office. When she decides to write an article about BDSM in popular culture, she tells herself it's just research and nothing personal for she can't afford to become the target of gossip or scandal. She hopes that the carefully worded agreement she writes up will keep her relationship with the Dominant she will interview strictly professional.
Then 'Master D' - Drake Morgan - walks into the interview and Kate is mortified for not only is he gorgeous, he's the son of her father's best and oldest friend… Drake Morgan, MD, bass player, philanthropist – Dominant. Known as Master 'D' in Manhattan's BDSM Community, Drake must keep the kinky side of his life secret to protect his very successful career as a neurosurgeon.
After a heartbreaking divorce, Drake doesn't do girlfriends, he doesn't do sleepovers, and he certainly doesn't do breakfast in bed the morning after. He keeps everything in his well-ordered life separate and under his firm control. Then Kate McDermott crosses his path and screws everything up. Now, nothing is neat and tidy anymore, and no longer under control for Drake is smitten and things are going to get messy…
From USA Today and Amazon Bestselling Romance author S. E. Lund comes a story of two people who find themselves in each other's arms. The Agreement will stay with you long after you read the final page.
THE COMMITMENT [Book Two]
Synopsis:
From USA Today and Amazon Bestselling Romance Author S. E. Lund comes The Commitment
Now, nothing is neat and tidy anymore, and no longer under control for Drake is smitten and things are going to get messy…
Now, in the weeks before they leave for Africa, Drake takes Kate more deeply into the D/s lifestyle. In the process, the walls between them continue to crumble as they explore each other physically and emotionally and they fall even more deeply in love.
But before they can even leave Manhattan, the past returns unexpectedly to challenge their blossoming relationship. Is Kate and Drake's commitment to each other strong enough to stand the test?
UNRESTRAINED [Book Three]
Synopsis:
Newly engaged, Drake and Kate start their life together in Nairobi, Kenya, where Drake is teaching and working as a surgeon to help out an old friend. Before they can even get settled in their new home, they are faced with challenges to their view of themselves and their relationship.
Will their love survive? Unrestrained is the third book in the bestselling trilogy in which the intense and passionate relationship between Drake and Kate unfolds as they search for their happy ever after.