Is there a new hot couple about to burst on the scene? Rihanna and Leonardo DiCaprio getting close? Maybe.
Numerous sources are claiming that the mult-platinum selling singer is getting very close to the award-winning actor, Leonardo DiCaprio.
[Note: The photo above is from several years ago.]
At this point, nothing has been confirmed or denied. The word is that the two spent New Years with each other in St. Barts and they have definitely been spotted over the last several months at the same events, including Leonardo attending Rihanna's MET Gala after-party last year.
So, have these two been dating under the radar? Only time will tell.
However, if these two become an official item. They would make one hell of a couple. I literally will be sippin' tea while watching all the melt downs happening from the folks that assumed they knew Leo's dating habits. (Check the blog archives)
A new Rih Rih and Leo sighting happened over the weekend. TMZ is reporting that Leonardo attended the birthday bash of designer, Nikki Erwin, at the Playboy Mansion. Nikki's boyfriend, producer, Chuck Pacheco (Alpha Dogs) invited Leo. Sources at the party say Leo and Rihanna were spotted kissing and having a good time.
One party goer tweeted about seeing them kiss, however, the tweet was deleted soon thereafter. It seems Rihanna and Leonardo want their privacy and they should have it.
Again, no statement to confirm or deny any type of relationship has been released.
Ironically, 50 Cent posted the following epic photo of Leo photobombing his pic with Naomi Campbell over the weekend.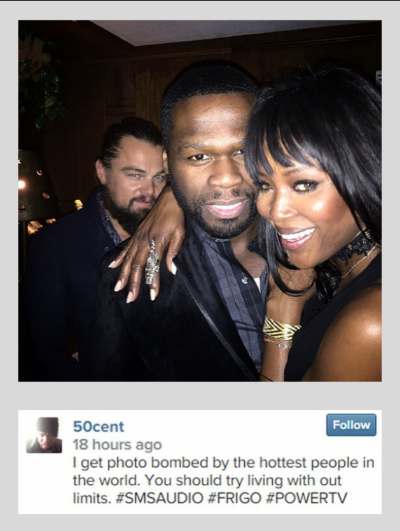 [Video]
Dish Nation broke the news...
Btw...the jealousy and disdain spewing from the host that is running off at the mouth is hilarious and a sample of the pre-melt downs that will be happening if this rumored couple becomes an official one..