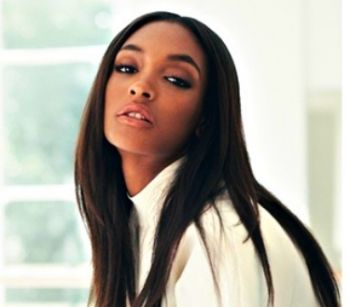 Even though its 2015, there continues to be major hurdles that need to be conquered where race is concerned. This stark reality is extremely prevalent in the modeling and fashion industry. This is why the announcement supermodel, Jourdan Dunn, made was historic and exposed the lack of diversity shown on fashion magazine covers and magazines in general.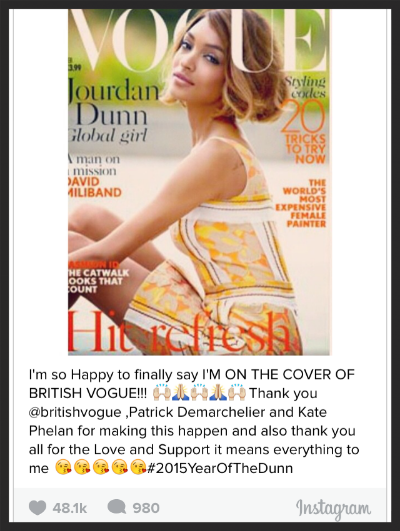 Dunn posted an excited Instagram photo and message relaying that she was going to be on the February cover of
British Vogue
. What is significant about this coveted magazine spot, is the fact that there hasn't been a black woman on the cover solo in twelve years. That's a blinding punch in the face of reality where some fashion "elite" fail to see the beauty in black women. Well, that's what some would like to believe. Could it be something a bit more...green? *PoursTea*
Surprisingly, NOT money. More like...green with envy? Seriously...I mean, tanning products are a billion dollar industry. Lip injections and lip products that increase the size of lips are in high demand as well. These are all traits that Black women naturally possess. *SipsTea*
Sorry not going to be politically correct on this subject. At some point...it needed to be said. Maybe that isn't the case, but, I refuse to spill the same tired ass narrative about this particular subject. Think about it? Why is it difficult for most magazine editors to make the decision to place Black folks on their covers? Hell...People magazine STILL refuses to choose Idris Elba as the 'Sexiest Man Alive' for their cover, even though EVERY YEAR they "fangirl" over him as a runner up. *BlankStare*
I digress.
With all that being said, it is good to see
British Vogue
moving in the right direction and breaking away from a "lily white" cover history.
Congrats to Jourdan Dunn!