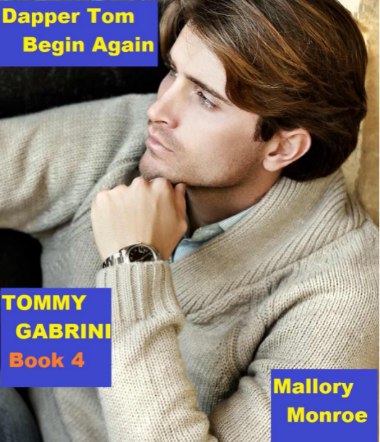 Chile! Mallory Monroe ain't playin! The novels are rolling out like fire...and they are EPIC reads.
The fourth installment in Tommy Gabrini's story released a few days ago. The turn of events in the relationship of Tommy and Grace were shocking and now the next chapter begins for Tommy.
In TOMMY GABRINI 4: Dapper Tom Begin Again, the explosive ride that is that of Tommy Gabrini's life continues, and you can bet it will be well worth the read.
I've purchased my copy and added it to my kindle library...Download your copy of TOMMY GABRINI 4 today as well.
As always...happy reading!
Amazon Link:
TOMMY GABRINI 4 Link
Synopsis via Amazon:
Tommy Gabrini is divorced and back in what he calls the meat market. But he's only tasting. His days of buying are over. When he meets Liz Logan, a smart, successful, African-American bombshell who is playing the field just as eagerly as he is, he feels as if he has finally found his open relationship soul mate. And he's realistic about this new coupling.
By virtue of his strong physical reaction to her, he's certain she will eventually become his go-to person when he needs that sexual release. Given the way she does him in bed, he's absolutely fine with that. But what he isn't banking on is the emotional connection. What he comes to realize is that whenever she's away from him, he cannot bear it. He cannot get her off of his mind. And when she comes through for him in a mighty way, and they both begin to realize just how much they truly need each other, sparks fly for Tommy once again, but on a level so profoundly different that it nearly costs him everything.
In the latest installment of the Gabrini Men series, Tommy finds love and happiness once again, but at what price?
FULL LISTING OF THE BOOKS, SERIES IN ORDER:
MOB BOSS SERIES IN ORDER
:
ROMANCING THE MOB BOSS 1
MOB BOSS 2: THE HEART OF THE MATTER
MOB BOSS 3: LOVE AND RETRIBUTION
MOB BOSS 4: ROMANCING TRINA GABRINI
A MOB BOSS CHRISTMAS: THE PREGNANCY [5]
MOB BOSS 6: THE HEART OF RENO GABRINI
RENO'S GIFT: MOB BOSS 7
RENO GABRINI: A MAN IN FULL [8]
RENO AND TRINA: GETTING BACK TO LOVE [9]
RENO AND SON: DON'T MESS WITH JIM [10]
MOB BOSS 11: THE WRONG ONE
THE GABRINI MEN SERIES IN ORDER:
ROMANCING TOMMY GABRINI
ROMANCING SAL GABRINI
TOMMY GABRINI 2: A PLACE IN HIS HEART
SAL GABRINI 2: A WOMAN'S TOUCH
TOMMY GABRINI 3: GRACE UNDER FIRE
SAL GABRINI 3: HARD LOVE
SAL GABRINI 4: I'LL TAKE YOU THERE
TOMMY GABRINI 4: DAPPER TOM BEGIN AGAIN --Released on 12.18.14
THE SINATRAS OF JERICHO COUNTY SERIES IN ORDER:
BIG DADDY SINATRA: THERE WAS A RUTHLESS MAN [Book One]
BIG DADDY SINATRA 2: IF I CAN'T HAVE YOU --Released on 11.21.14
Visit Mallory Monroe's official website for more information on all of her titles.
Link ---->;
Official Website