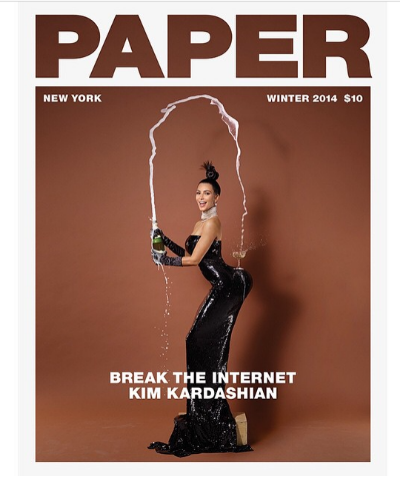 Kim Kardashian caused social media to start buzzing yet again, with the release of the cover and spread photos she did for PAPER magazine. The fashionable reality star shocked folks by baring her behind on the cover. The cover even included the phrase "Break the internet" which instantly became a popular trending hashtag.
However, that wasn't the kicka. Kim chose to go full frontal nude in additional photos for the mag. The photos were shot in Paris, by photographer, Jean-Paul Goude. As one would imagine, folks took to social media to unleash their opinions about the controversial photos. Kim has received major backlash from a legion of folks including celebrities.
Link to Paper Mag Photos [NSFW]
Interestingly enough, it is surprising that Kim would make a decision to bare it all for whatever artistic rhetoric one wants to claim, especially being that she has a young daughter, a husband and was doing a good job taking the spotlight off of her infamous sex tape, by expanding her brand successfully. There really wasn't a need for her to go this far. However, it's her life and her business. Sometimes folks need to know when to just say no to a particular opportunity.