Yesterday, TMZ released the full video of former Ravens RB, Ray Rice, knocking his fiancee (now wife) out cold. The video is disturbing. In addition to punching her, he then proceeds to drag her body like she was a sack of potatoes.
After the video went viral, the Baltimore Ravens cut Ray Rice. Later in the day, Nike dropped Ray as well.
As expected, Janay Rice, spoke out in DEFENSE of her abusive husband. She actually had the nerve to blame the MEDIA AND PUBLIC for her hubby getting axed. She blamed everybody except the person responsible...her abusive husband. It is just a shame that she is delusional and cannot see the forest for the trees.
Janay Rice's Instagram Post From Yesterday: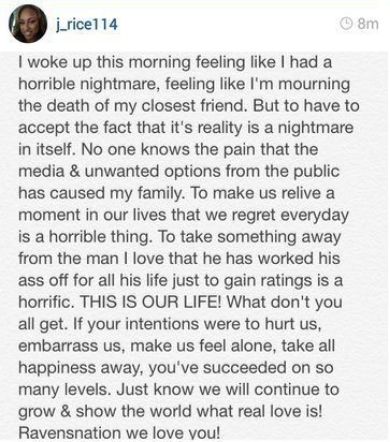 It is unbelievable how some women cannot find the strength to realize their self-worth and leave abusive relationships.
Hopefully, they will both seek the help they so desperately need.