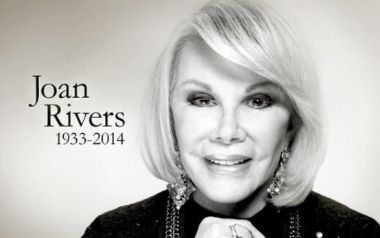 Sadly Joan Rivers passed yesterday surrounded by family and close friends. Her daughter Melissa Rivers, made the announcement yesterday. Sending prayers to Melissa and the rest of their family during this difficult time. Joan Rivers was an iconic comedian and will continue to make us laugh for years. Rest in peace, Joan... You're making Heaven rumble with laughter.
Via The New York Times:
Joan Rivers died on Thursday in Manhattan. She was 81. Her daughter, Melissa Rivers, confirmed her death.
A spokeswoman, Judy Katz, said the cause had not yet been determined. Ms. Rivers died at Mount Sinai Hospital, where she had been taken last Thursday from an outpatient surgery clinic after going into cardiac arrest and losing consciousness, the authorities said.
The State Health Department is investigating the circumstances that led to her death, a state official said Thursday. Ms. Rivers had been in the clinic for a minor procedure on her vocal cords, according to a spokesman. Her daughter said Tuesday that her mother was on life support and Wednesday that she was out of intensive care.