The deadly outbreak of Ebola in West Africa, has been the cause of over nine hundred deaths. That number surely will possibly rise since there is not a cure for the deadly disease and officials there clearly need help in containing the spread of the disease.
With that being said, two American missionaries became infected with Ebola and both were flown back into the United States to continue receiving treatment at Emory University in Atlanta.
Mapp Biopharmaceutical Inc., a small biotech company in San Diego, which is owned by tobacco company, Reynolds American Inc., developed the ZMapp drug. The company released the experimental serum called, ZMapp, to be administered to the two American missionaries.
It appears as though the serum has improved their condition and this has caused an outcry from folks wondering why the serum has not been given to the people in West Africa who are in desperate need of help in fighting the disease. Some have even used race as a reason as to why they felt the serum was not being readily given.
However, folks must understand, the drug is EXPERIMENTAL. The vaccine has not been approved or cleared by the FDA, nor has the vaccine ever been administered to humans. The two missionaries are the first.
In addition, there is not a large quantity available. With all of these issues at hand...while it may be frustrating for some, it is the reality of the situation. Folks just need to continue to pray and hope Ebola does not spread here in the United States. The CDC and health officials have assured the public that Ebola can only be transmitted via bodily fluids, person to person. It is not airborne.
Not to make light of the situation at hand...but it doesn't help to see the health officials transferring Ebola patients dressed like this (photo below) ....if its not airborne.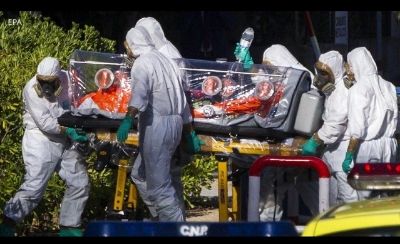 Again, continue to pray for Dr. Kent Brantly and Nancy Whitebol. They risked their own lives to provide care to others in need.
Ebola: CDC on highest alert: