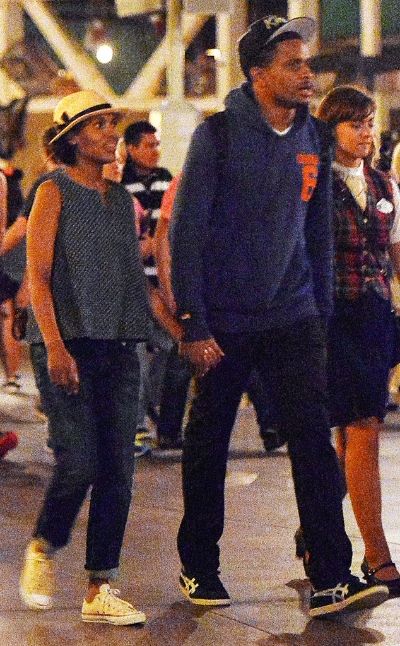 Emmy nominated actress, Kerry Washington and her gorgeous hubby, Nnamdi Asomugha were spotted at Disneyland over the weekend, with their precious daughter, Isabelle.
It was nice to see the usually uber private couple out and about. They make an awesome couple! Additional deets below....
Via E Online:
So the "happiest place on Earth" it was for Kerry Washington, husband Nnamdi Asomugha and their baby girl, Isabelle, when they spent the afternoon and evening at Disneyland and Disney's California Adventure on Saturday. The proud parents, their daughter, a nanny and a number of family members arrived at the Anaheim, Calif., theme park at around 4 p.m. and stayed until 10 p.m., crashing at the Grand Californian Hotel & Spa before making the drive back to L.A. in the morning.
Kerry Washington's best looks While at the park, their nanny watched Isabelle while Kerry and Nnamdi got their thrill on at California Adventure, riding the California Screamin' roller coaster, taking the plunge from the Tower of Terror and motoring the Radiator Springs Racers.
The couple, who celebrated a year of marriage in June, also enjoyed classics like Space Mountain, Pirates of the Caribbean, the Haunted Mansion and Thunder Mountain Railroad at Disneyland. They didn't appear to have extra bodyguards wtih them but the family did take VIP tours around the park.
We're told that Kerry looked very happy and healthy and seemed to be in good spirits around the inevitable throng of fans around her, but as far as an eyewitness could tell she didn't stop to take pictures with anyone. She and Nnamdi, a Cal Berkeley grad and former cornerback for the San Francisco 49ers, indulged in churros and cotton candy and purchased some mugs and shirts for souvenirs.
Sounds like a fun weekend for the whole family! — Reporting by Michelle Falls