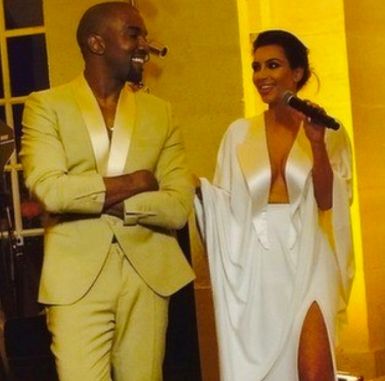 Photo from a Pre-Wedding celebration
On Saturday, Kim Kardashian, 33, and Kanye West, 36, tied the knot in Florence, Italy in front of a few hundred of their closet friends and family in an intimate, beautiful and romantic wedding.
Congrats to Mr. and Mrs. Kanye West!
Via People.Com:
Andrea Bocelli sang Con te Partiró (With You I Live) as Kim was walked down the aisle by Bruce Jenner. The couple were married in front of a massive wall of flowers.
Before the ceremony, Kanye was the typical nervous groom, swigging obsessively from a bottle of water and shifting his weight from one foot to the other. "It was funny how nervous he was," an onlooker tells PEOPLE. "He clearly knew the gravity of what he was about to do. This morning he was all smiles, but as it got closer, you could see that the nerves were kicking in. It's common for most grooms. I've seen it all before."
During ceremony, the guest broke into applause twice – first at the newlyweds' kiss and then at the presentation of the bride and groom. Kris Jenner was seen wiping her eyes with tissue in the front row. Vows were intimate and spoken softly, according to a source, and after, Kanye was all smiles again and both he and Kim were beaming.
The Menu