Chile. The Real Housewives of Atlanta's reunion will be aired in three parts. Tonight is the premiere of part one.
Of course everyone has been discussing the infamous fight that erupted between Porsha Williams and Kenya Moore during the taping. Folks have been giving different scenarios of what went down, but what seems accurate in all the tellings is the fact that Porsha reportedly dragged Kenya Moore across the studio floor...literally, snatched hair out her head...literally, and beat her down.
Now, I don't condone violence; however, Kenya has been extremely harsh toward Porsha during this season, specifically about her marriage to Kordell Stewart. The child was going through hell with that break-up and Kenya went too far in some of her comments. When you run your mouth the way Kenya did...surely you will back-up your words if someone puts their hands on you. If not, she got schooled in the lesson that you can push a person to far and they will snap on your ass. If you can't back your shit up, then learn to keep your mouth closed.
So it will be interesting to see if Kenya fights back or if Porsha won this round, which I believe she did. Of course there are consequences to ones actions and last week, Kenya Moore took out charges on Porsha. Porsha went through the humiliation of turning herself in to police and getting officially booked. The charge is for misdemeanor assault.
The case is on-going and reps for Porsha Williams have stated that she will be pressing charges against Kenya Moore as well. So this chapter in the RHOA drama will be continued....Below is a photo of Porsha's mugshot. When all else fails...one must always have their face fully beat and ready for any photo shoot...including a mugshot.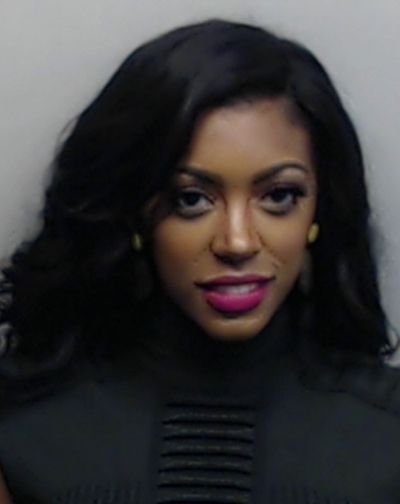 Y'all be sure to tune in to part one of the highly anticipated RHOA reunion show tonight on Bravo at 8PM EST.
Have your popcorn and wine ready.