On Saturday. TMZ released an audio recording of a conversation allegedly between billionaire Clipper owner Donald Sterling and his girlfriend V. Stiviano, In the audio recording Sterling is heard making outrageous and ignorant comments. At one point, he even told his HALF-BLACK girlfriend NOT to bring Black people to his games.
Social media exploded and many took to their social media platforms to show their outrage. Magic Johnson, Snoop Dogg, Meek Mill, Kevin Hart, Lebron James, Solange Knowles, Michael Jordan, the President and more, expressed their thoughts on Sterling's comments.
Its pretty clear that Donald Sterling is racist and the fact that he OWNS a NBA organization is appalling. He is every bit a modern-day slave-owner and the team members and coach Doc Rivers, must be his slaves. That is the mentality that is expressed through his warped views of how races should interact with one another. So Donald Sterling needs to be forced out. He should not be able to own any team in the NBA. He has to go.
And let me just say; his girlfriend is ridiculous as hell as well. She was obviously with him for the money. There is no way in hell she saw that crypt-keeper looking corpse and fell in love. She also had to know of his racist ways. So for her to be f'ing a racist for money is disgusting and that explains what she is. Real talk.
Above is audio of the conversation between Sterling and Stiviano. Various reactions listed below.
Magic Johnson:
Doc Rivers:
President Barack Obama:
Adam Silver:
Al Sharpton:
Shaq O'Neal:
Stephen A. Smith:
Snoop Dogg:
TNT Halftime Panel Reacts - Includes Shaq, Charles Barkley:
Michael Jordan's Statement: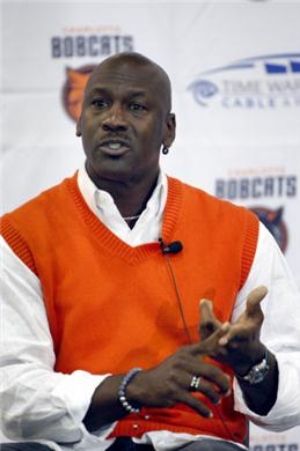 "I look at this from two perspectives - as a current owner and a former player. As an owner, I'm obviously disgusted that a fellow team owner could hold such sickening and offensive views. I'm confident that Adam Silver will make a full investigation and take appropriate action quickly. As a former player, I'm completely outraged. There is no room in the NBA - or anywhere else - for the kind of racism and hatred that Mr. Sterling allegedly expressed. I am appalled that this type of ignorance still exists within our country and at the highest levels of our sport. In a league where the majority of players are African-American, we cannot and must not tolerate discrimination at any level." Michael Jordan (Charlotte Bobcats) - April 27, 2014
Lil Wayne: