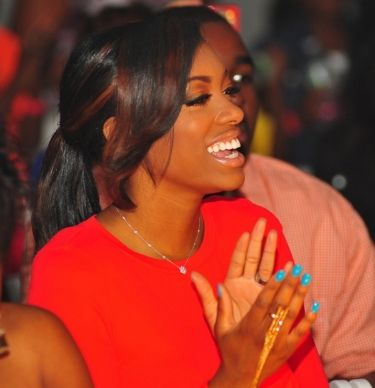 [Watch Video] - PORSHA WILLIAMS BELIEVES THE 'UNDERGROUND RAILROAD', WAS A REAL TRAIN:
I didn't even want to post this next entry, due to, the enormous embarrassment and extremely unbelievable realization that Porsha Stewart (Williams), an African-American, could be so foolish in her knowledge of black history, or rather the lack thereof.
This post, was to be published yesterday, but, I just didn't feel like seeing it on my blog. It's just ridiculous and sad as hell. But, I digress, somewhat.
At 32 years of age, Porsha Williams, who's a regular on the hit reality series, 'Real Housewives of Atlanta', made it her duty, to repeatedly tell the other cast members and the millions of viewers, that her Grandfather's legacy was of the utmost importance to her. As it should be.
However, on Sunday night's episode of the hit show, Porsha Williams, solidified the fact that she isn't very bright. Of course, this has been documented on video, since her debut on the show last season. She had a "moment", last season, when she stated there were "265" days in a year. (*Sighs* )
Folks, just didn't want to believe she was that stupid, so it was like an "oops" moment. Perhaps, she misspoke. Well, now we all know, that doesn't seem to be the case.
Yet, she is representing her Grandfather's legacy on reality television, and it is of the utmost importance to her. Chile.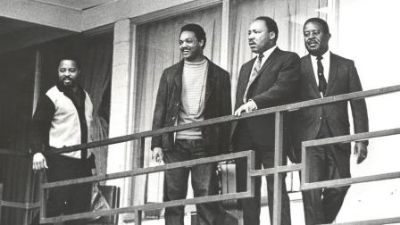 [Above Photo: Hosea Williams, on the far left, pictured with Jesse Jackson, Martin Luther King, Jr and Ralph Albernathy, on the tragic day Martin Luther King, Jr., was assassinated, April 4, 1968.]
If you weren't aware, Porsha's Grandfather, Hosea Williams, was a prominent civil rights activist and scientist. He held a Master's degree and was a member of the Phi Beta Sigma fraternity.
Below is a video of the late Hosea Williams, speaking about the assassination of his friend, Martin Luther King Jr.
Hosea Williams, passed in 2000, at the age of 74.
[Video]- Hosea Williams speaks about the assassination of Martin Luther King, Jr.
[Video] - Hosea Williams' best friend Ally Pat spoke at his 'Homegoing Celebration' (Funeral)
There is NO excuse, for Porsha, not to know the bare minimal, about the 'underground railroad', and black history in general, ESPECIALLY, being the granddaughter of a civil right's leader, who stood beside Martin Luther King, Jr., in the struggle and was with him, at the time of his assassination.
It boggles the mind, that this child could be so ignorant. It was painful to watch. Folks, the 'underground railroad', is taught in elementary school.
However, it (black history), should also be spoken about and taught, in the home, from parents, grand-parents, etc. At least, in my family, that's how it was done. The best knowledge about one's history, is from the very people, who has lived through it and from the legacy and history of our ancestors.
There are libraries in every city, museums, with a wealth of knowledge and history, that is rich, inspiring and deep. My goodness, I just cannot believe the sheer ignorance.
Porsha should be ashamed. She has to be embarrassed. Hell, she embarrassed her family, black folks, our ancestors and her late Grandfather's legacy. He has to be rolling around in his grave.
But, trust and believe, when those words left her mouth, he (Hosea Williams), along with William Still, Harriet Tubman, Sojourner Truth, Frederick Douglass, Solomon Northup, Martin Luther King Jr., and many others, who fought for freedom and justice, gathered in the "Heavenly Church", to pray for Porsha, and others like her.
Jesus...Jesus...take the wheel.
Amen.