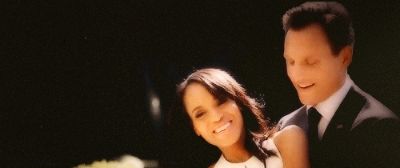 The dynamics of Thursday night's episode of 'Scandal' was a delicious entree of drama, intrigue, betrayal, tenacity, romance and a monsoon of shocking twists and turns that ended on a multitude of cliff-hangers that left your jaw on the floor.
Not to give too much away… but "Mama Pope" AIN'T NO JOKE!!! Quinn is in over her head, Harrison did the do, Cyrus pimped out his hubby, to the VP's spouse, Mellie became head detective, yet complacent, Huck is about to go ham… and Olitz got you all in your feels!
Fitzgerald Thomas Grant III, does NOT play. He is serious with his mack and this was only episode 8.
Swoon.
If you missed last night's episode, catch it below.
The next episode will air in two weeks. Check the promo for episode 9 titled,'YOLO', after you watch episode 8.
Having issues viewing the full episode? Here's the direct link: http://www.hulu.com/watch/562144#i0,p0,d0
Just have to say, the OLITZ moment was beautiful, romantic and tragic at the same damn time.
Now, lets all bow our heads. Pray that Shonda and her brilliant writing team, will work Kerry Washington's pregnancy into the story-line.
I think it would go a little something like:
Scene:
Olivia is sitting on the side of the tub, in her master bathroom, holding a pregnancy test. Her shoulders are slumped and one hand is pressing to her forehead.
Olivia looked down at the E.P.T stick in her hand, staring at it for a full five minutes. The myriad of emotions playing across her face, ranged from shock, panic, dismay, bewilderment and finally joy.
Pregnant, with Fitz's baby.
Her thoughts immediately flashed back to the beautiful and unexpected night, she spent with the President, at the home he built for them.
Briefly touching her belly, the slight bump, causes a smile to brighten her face, and dry her tears.
This was a big mess. But, Olivia, was determined to make sure she protected her baby and Fitz's presidency.
No one could ever know that Fitz was the father of her child. She needed a plan, quickly.
A thought came to mind.
She grabbed her cell phone, speed-dialing Jake's number.
As she waited for Jake to pick up, her mind was already in deep thought.
Yes. Yes. This could work.
Highlights from last night's episode. Big ups to Youtuber 'Scandalous Gladiators', for uploading these videos.