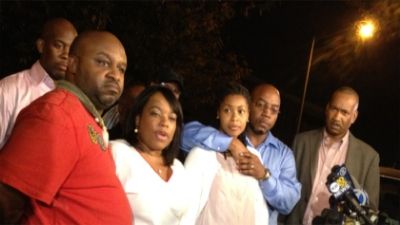 Miriam Carey was a young mother, who for unknown reasons, got into her car with her toddler and drove from Connecticut to Washington, DC. This is where the story gets sketchy and details become speculation. Capitol police shot and killed Miriam Carey, after they claimed she rammed her Infiniti into a White House concrete barrier.
Video shows Miriam driving away from police, and a chase ensued. Now while Miriam Carey was wrong to flee the police, she could've very well been frightened, having her child in the car with her. We now know, via her sisters, who know her better than the "media", that their sister suffered postpartum depression.
It's also been reported that antipsychotic medication Risperidone and the antianxiety drug Escitalopram, which are prescription drugs, were found in her home. There wasn't a weapon found in the car and questions need to be asked. Miriam Carey was shot dead, and though authorities are stating her "car" was the dangerous weapon, that isn't an excuse. The police could've shot out her tires, and disabled the car. At that point, Miriam Carey could've been pulled her from the car, arrested and answered the questions we now will never know. There is only speculation.
What is also clear, is that her car did not have any visible damage to support that she rammed her car into a barrier at the White House, at least not via photos. The only damage that appears on the car (via photos), is that of the multiple bullet holes the police embedded into the car, and the windows they smashed. Now what parent would not flee with bullets flying into their car, when they have their baby in the car with them. Something just doesn't add up. Based on the current details that have been made public, did Miriam Carey have to die? It seems she needed some type of medical help, not a death sentence.
Hopefully, additional details will be uncovered as the family continues to ask questions.
In addition, one of her sisters is a retired NY police sergeant. Her family speaks out.