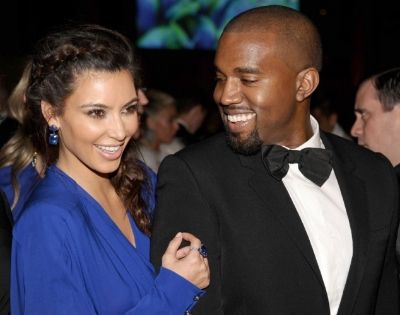 Kim Kardashian got more than just a "little" trinket on her 33rd birthday. Her boo, Kanye West, popped the question. So, congrats to the happy couple!
Additional deets below.
Via E Online:
Kim Kardashian got the birthday surprise of a lifetime tonight. The E! star is engaged to longtime love Kanye West, the rapper popping the question in front of their friends and family at AT&T Park in San Francisco.
Kanye, whose Yeezus Tour touches down in nearby San Jose tomorrow night, rented out the stadium for the occasion. (For all the details on Kim & Kanye's surprise engagement, tune into E! News Tuesday at 7 p.m. and 11:30 p.m.)
And here we thought Kim's 33rd birthday bash at Tao this Friday was going to be the major event of the week.
Kanye sure figured out a way to top last year's chocolate cake! Earlier tonight, in fact, Kanye was hanging out with director Steve McQueen at the 2013 Hollywood Film Awards and was the first presenter of the night, making it all the more surreal when he touched down in the Bay Area just a couple hours later. (Way to keep 'em guessing!)