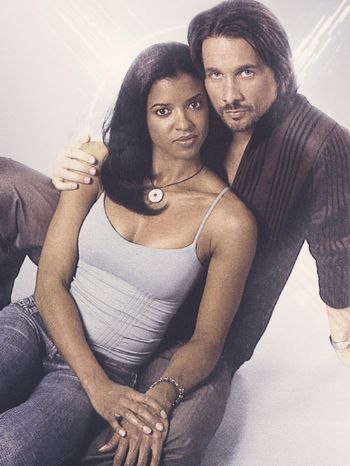 Actor Michael Easton, has been on the popular soap 'General Hospital' canvas for a good minute. Even with all the transitional changes, mainly that of having to rip the character name "John McBain" from Michael, due to ABC's conflict with the folks, who now own/run 'One Life to Live', Michael Easton remains extremely popular.
I won't rehash my sentiment on one of daytime's hottest couples on television, who had chemistry rolling from them ten-fold. However, that awesome duo, was that of One Life to Live's "John McBain" (Michael Easton) and "Evangeline Williamson" (Renee Elise Goldsberry).
One thing is clear, if the powers that be at General Hospital, want a couple that will rock daytime, they need to put these two people back on screen together. Doesn't matter that the names changed... the chemistry will be there.
To add even more drama and craziness, it would be insanely cray if GH execs also hired actor Trevor St. John, who played "Todd Manning" on OLTL. This would be one hell of a love triangle. Ratings would go through the roof.
For a more in-depth look at the back story, of one of daytime's most popular couples, ('John McBain' and Evangeline Williamson'), who proved they were too hot for daytime, visit an earlier post at: http://www.thechocolatechick.org/2011/11/sp-edition-amc-oltl-rip-for-good-if-so.html
The original posting date was 11.23.11.
Below is a video that showcases the chemistry between both couples. Big ups to the youtuber who created the vid. Again, General Hosptial execs need to get the ball rolling.