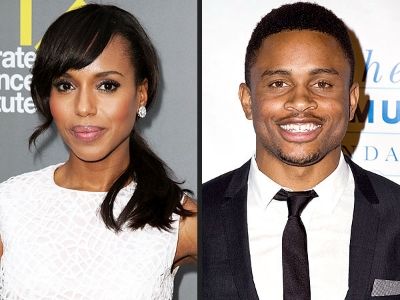 Congrats to newlyweds Kerry Washington and Nnamdi Asomugha. The lovebirds married last month.
Kerry kept this relationship on the low low. Definitely can understand her wanting to maintain her privacy. They make a cute couple. Additional deets below...
Via E Online:
Not exactly a Scandal, but this is certainly a surprise! Kerry Washington married San Francisco 49ers cornerback Nnamdi Asomugha on June 24 in Blaine County, Idaho, E! News exclusively confirms. Because, you know, they were such a high-profile couple...?
Well, according to sports gossip site TerezOwens.com, which was first to get wind of the happy news, Asomugha has been dating Vanity Fair's August 2013 cover girl since last summer. The 31-year-old three-time Pro Bowl star played with the Oakland Raiders, who drafted him following his graduation from UC Berkeley in 2003, for eight seasons and the Philadelphia Eagles for two before signing with the 49ers in April. The bookish athlete is no stranger to showbiz, either, having scored acting gigs on The Game, Friday Night Lights and Leverage in recent years.
Like his bride, Asomugha is also a dedicated activist and philanthropist and he has participated in the Clinton Global Initiative every year since 2009.
This is the first marriage for Washington, 36, who went from generally lovely actress to mega-star over the past year thanks to her breakout roles playing not-to-be-messed-with political fixer Olivia Pope on ABC's Scandal and Jamie Foxx's enslaved wife Broomhilda von Shaft in Django Unchained.