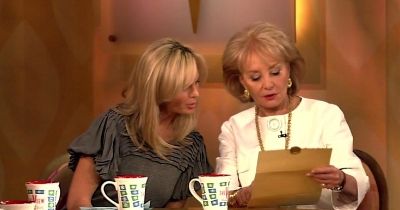 Elisabeth Hasselbeck bid adieu on today's episode of THE VIEW after ten years with the show. Now while Barbara Walters put a smile on her face and walked out with Elisabeth at the beginning of the show and they continued to say "nice" things about one another, something just screamed... FAKE.
I do not believe for one second that Elisabeth's exit today was planned, I firmly believe Elisabeth pulled a shocker yesterday evening and producers of the show scrambled to cover up what could have possibly been another awkward exit.
I also believe Elisabeth was going to be let go from the show anyway and chose to beat them to the punch.
The guide on the television even showed where former THE VIEW co-host Debbie Matenopoulos, was scheduled to be a guest co-host today. She wasn't at the table this morn, which further implies that Elisabeth's departure was abrupt and a complete surprise to the producers of the show.