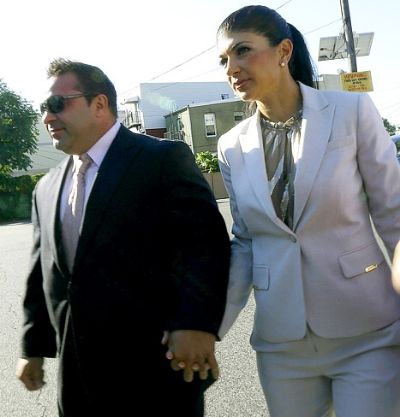 Lawd! There are no words. Both are looking at jail time. Deets below.....
Via US Weekly:
Tereas Giudice and Joe Giudice put on a united front outside of the United States District Court in Newark, New Jersey, on Tuesday, July 30. Arriving hand-in-hand, the Real Housewives of New Jersey stars appeared before Judge Cathy Waldor.
UPDATE: The Giudices were each released on $500,000 unsecured bail bonds. They must surrender their passports and they are not allowed to leave New York or New Jersey until their next hearing, which is scheduled for Aug. 14. During the hearing, it was also revealed that Joe, who was born in Italy, is not a legal U.S. citizen.
An onlooker says the spouses "were very solemn" during the hearing, adding that there were "no tears" and "they were very professional."
One day earlier, the Bravo reality stars were charged in a 39-count indictment with conspiracy to commit mail and wire fraud, bank fraud, making false statements on loan applications and bankruptcy fraud. Teresa, 41, and Joe, 43, of Montville Township, N.J., are accused of exaggerating their income while applying for loans before their show debuted in 2009, then hiding their improving fortunes in a bankruptcy filing after their first season aired.
The spouses are also accused of submitting fraudulent mortgage and loan applications from 2001 to 2008.
On Monday, July 29, Teresa's attorney, Henry Klingeman, told Us Weekly, "Teresa will plead 'not guilty.' The judicial process that begins today with an indictment is a search for the truth. As it moves forward, we look forward to vindicating her." Joe's attorney, Miles Feinstein, echoed, "We're going to meet these charges and fight them."
Side Note: What in the world!? These are some SERIOUS charges. In addition, Joe is not a U.S. citizen and could be DEPORTED!
Chile!
Will update as the story unfolds. The Guidice's next court appearance will be held on August 14th.