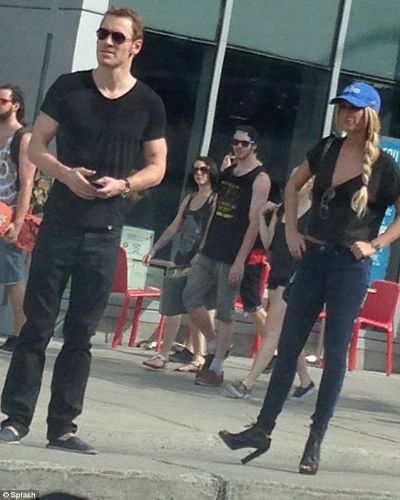 Just days after Michael Fassbender was out and about with British Olympian Louise Hazel, who some have stated, is dating Fassbender, Micheal was spotted in Montreal on Saturday (where he's filming X-MEN: Day's of Future's Past), with a mystery woman.
Well that ish turned into drama quick, because Michael reportedly screamed at the blonde woman to keep her distance when he saw paparazzi snapping photos of them together. Unfortunately Michael made the situation worse by drawing even more attention to them, and the woman did NOT look pleased to be yelled at when it was obvious they were together.
Even though there hasn't been an "official" confirmation that Michael and Louise Hazel are in a relationship, one thing is for sure, if they are... this is the type of reaction you would expect from a man who has been caught. Michael didn't want the pics to get out for some reason.
Now another interesting take on the photo has come into play. Someone stated that the entire incident in Montreal could have been a PR move because Michael received negative feedback from some folks about his choice of "dates". Naw... this looks like someone who just got caught. LOL Damn.
Btw if it's true and he screamed at her... she stupid as hell for not cussin his ass out right then and there. Ain't no way that behavior would get a pass. Additional deets below.
Via Daily Mail:
A source said the 36-year old Irish actor - who is supposedly dating British Olympian Louise Hazel - was walking with the mystery woman, but as soon as he saw a camera he reportedly 'screamed' at her to keep her distance.
Michael wore black jeans and T-shirt, some Toms shoes, and covered his eyes with some aviator sunglasses; but with her hands on her hips, the blonde-haired girl didn't look too impressed with Michael's words. Wearing a blue cap and a long plait with a loose black vest, skinny jeans and lace-up, peep-toe heels, she still seemed to follow him off the sidewalk and all the way into another building.
The actor was in Montreal on a day off from filming the latest Marvel installment called X men: Days Of Future's Past where he will be reprising his role of Magneto.
Just over a week before, Michael was in London with heptathlete Louise, taking her out for dinner with his good friend Bradley Cooper.
According to Us Weekly, the 36-year-old actor and the 27-year-old Olympian dined with Bradley at the Wolseley cafe in Piccadilly before heading to The Bulgari Hotel in Kensington. The rumoured couple reportedly stayed until 1am, and a source confirmed 'they are dating/'
But the two may not be that serious, as last year the Irish-German actor said his jet-set lifestyle is not conducive to a stable relationship. Fassbender said to the Metro:
'Sleeping around? I don't think it's a cliché. You're travelling around a lot and perhaps lonely and you want some kind of connection again. 'You're in a position where people treat you differently. There's more of a buffet of choice. It's not fair on somebody to be waiting for you.'
Fassbender most recently dated his Shame co-star Nicole Beharie but they broke up in January 2013 and before that, he went out with his X Men: First Class cast-mate Zoe Kravitz.
Side Note: If Michael Fassbender is single and unattached, he has no issues to deal with about cheating rumors. He could just be casually dating several people. However if Michael is in a relationship with Lousie Hazel.... DRAMA is going to pop off! Where is my damn popcorn!??