Sen. John McCain's son Jack McCain married Renee Swift recently in a beautiful ceremony. Congrats to the happy couple. Additional deets below.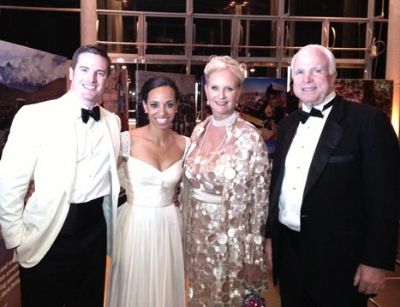 Via US Weekly:
Arizona Senator John McCain's son, Jack McCain, wed Renee Swift on Saturday, June 1 in San Francisco, Calif., a spokesperson for the senator confirms to Us Weekly.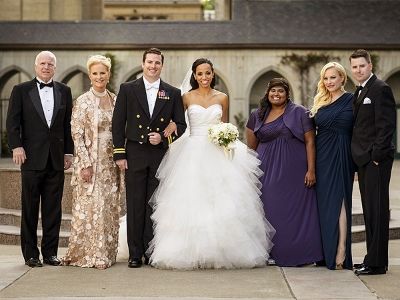 Jack, 27, is a Navy lieutenant and helicopter pilot. His bride, 29-year-old Swift, is a San Francisco Bay Area native and a captain in the United States Air Force Reserve.
The spokesperson tells Us that the happy pair met in Guam, where they were both stationed. The rehearsal dinner was in the Tonga Room at the Fairmont Hotel in San Francisco on Friday, May 31. The pair then married Saturday, June 1, at Grace Cathedral with a reception at the California Academy of Sciences.
"Wonderful day at my son Jack's wedding!" Sen. McCain tweeted, Instagramming a picture from the reception. Swift looked stunning on her special day, wearing a white sweetheart neckline wedding dress with narrow cap sleeves and a natural waistline. She completed her look with a simple necklace and put her hair in sleek undo.
Following their wedding festivities, it's back to work for the newlyweds. "Jack will return to Guam for another deployment after their honeymoon in Africa," the spokesperson reveals.
Jack is one of five children -- he has an older sister, Meghan, younger brother James, and a younger sister, Bridget. Sen. McCain, 76, has been married to his wife, Cindy Lou Hensley McCain, since 1980.