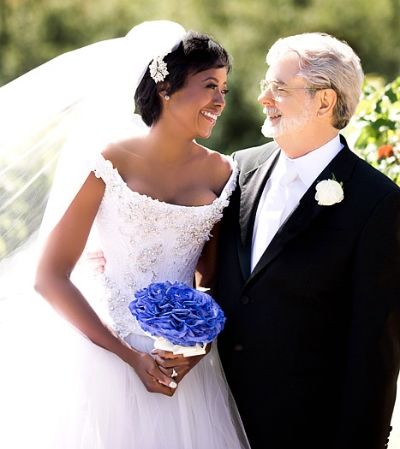 Via US Weekly:
George Lucas married Mellody Hobson at Skywalker Ranch in Marin County, Calif., at 5 p.m. PST on Saturday, June 22.
According to a source, the Star Wars creator and the businesswoman tied the knot in front of celebrity pals Oprah Winfrey, Robert De Niro, Glenn Close, Harrison Ford, Calista Flockhart, Quincy Jones and Rashida Jones.
Former New Jersey senator Bill Bradley walked the Peter Soronen–clad bride down the aisle. "Mellody's flowers were blue roses," a source tells Us Weekly. "That was her something blue."
Director Francis Ford Coppola did a reading, and journalist Bill Moyers officiated the ceremony (planned by Yifat Oren and Stefanie Cove). "It only takes one person to have met the love of your life," the former Baptist minister told the bride and groom.
According to The Huffington Post, Lucas' son, Jett, was his best man, and his daughters, Katie and Amanda, served as bridesmaids.
During the reception, approximately 200 guests enjoyed performances by Janelle Monae and Van Morrison. The groom's longtime friend, filmmaker and producer Steven Spielberg, gave a toast.
According to a source, "He joked that the Force finally had a name: Mellody!"
Lucas, 69, and Hobson, 44, announced their engagement in January following a seven-year courtship. The Indiana Jones creator was previously wed to film editor Marcia Griffin from 1969 to 1983.