On more than one occasion, I've received an interesting email about a post or two on my blog. But never has the outcry been more apparent than that of the subject of Leonardo DiCaprio, or rather, Leo's dating habits.
Some folks are wee bit too attached to celebrities they stan for. To cuss me out about a man you will never ever be with is absurd.
Now some have legitimate questions because mainstream media regularly insinuates Leo only dates models who are blonde. Yes that is the absolute truth right?
Let's take a look back at a post I wrote last year that appeared in a July 2012 'Special Edition Interracial' post. But first....
Not to be outdone, a gossip columnist for a popular celebrity entertainment website, stated a few months prior to DJANGO UNCHAINED being released, that the newly single Leonardo DiCaprio would be with a new blonde soon and his next film to be released would be THE GREAT GATSBY.
Now mind you, his next boo might very well be a blonde model, actress or what have you (that's his business), but to completely skip over the fact that his next film (at the time) DJANGO UNCHAINED was set to release within weeks, spoke volumes.
So I emailed the gossip writer and basically explained to her that either she was deliberately being condescending by ignoring DJANGO UNCHAINED as Leonardo DiCaprio's next project or she was just pathetic in her research and pop culture awareness and shouldn't be in the position she apparently had. And just to add a slight sting.... I further included a link to the original 'Special Edition Interracial' post to enlighten her on Leo's VARIOUS date mates.
Of course, I didn't get an 'emailed' response, nor was I expecting one... however the writer 'updated' her article with the 'correct' movie title. I suppose she would have just died on the spot from shock if she knew Leo was a huge hip hop head. IJS. Stay Mad. *SipsTea*
Leonardo DiCaprio -
Leo & Kidada Jones, Leo & Naomi Campbell, Leo & Mariah Carey & a plethora of other black women the MEDIA would never report about. [Now a lil bit more has to be revealed on Mr. DiCaprio. Some say Leonardo "hides" his black girlfriends. LOL... Hmmmmm maybe.. if so, that's pathetic but perhaps it's just that the MEDIA refuses to print when Leo is with a black woman. As far as the "media" is concerned Leo prefers and ONLY dates blonde models. [Giselle Bunchen, Bar Raefeli, Blake Lively, etc] Keep thinking that.
Leonardo Dicaprio & Mariah Carey
Leo and Mariah dated briefly?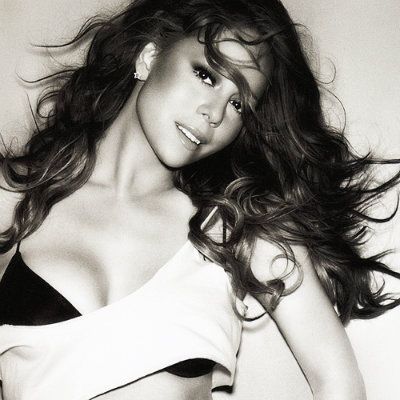 [Source 1 Link: http://www.ranker.com/list/leonardo-dicaprio_s-loves-and-hookups/celebrityhookups?page=1] [Source Link 2:http://www.whosdatedwho.com/tpx_1741587/leonardo-dicaprio-and-mariah-carey/]
Leonardo DiCaprio & Naomi Campbell:
Leo and Naomi's relationship ended many years ago, but they have remained very good friends. Such good friends that in August of 2010 Leonardo, his on-again off again girlfriend, Bar Refaeli and Naomi and her billionaire boo Vladislav Doronin all went vacationing together in Porto Cervo, Sardinia.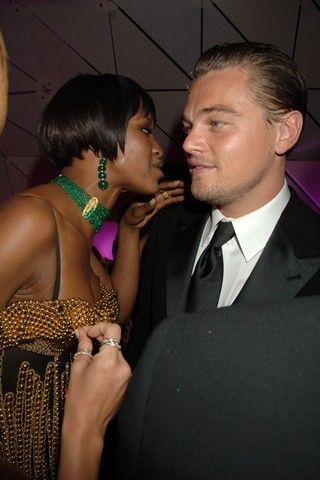 Leonardo Dicaprio & Unnamed Woman [Not confirmed as a date, posting for content]
Leonardo DiCaprio & Unnamed Woman
Leonardo DiCaprio & Kidada Jones [Quincy Jones daughter, and the late Tupac's fiance]
Leonardo DiCaprio & Woman who slashed his face
Interesting to note.... In 2005 a woman of color hit Leo with a broken glass bottle at a party. It required stiches and Leo reported the incident 3 days later. Some speculate that the woman was a "hookup" at the time or a possible ex of Leo. Leo denied knowing her and pressed charges. The woman claimed she thought Leo was an ex-boyfriend. [Blank Stare] Chile!!!
Via Wiki:
In 2005 DiCaprio's face was seriously injured when Aretha Wilson, a model, hit him over the head with a broken bottle at a Hollywood party. After pleading guilty in 2010, Wilson was sentenced to prison for two years.
[2010] - Vid of Leo leaving a club with Usher. However Usher is already in the car. The paps catch Leo walking to the car with a black woman. [At first, thought it was Vivica Fox because the pap asked about "Dancing With The Stars", couldn't confirm by the vid.]
Leo is hiding under his ball cap as usual and they are trying to act like they aren't together. It's obvious they are "together." If it's true that he's scared about dating black women publicly due to fear of backlash from certain fans that's pathetic as stated previously. The Jury is still out on that, don't believe he is ashamed, it seems more just about privacy and he always wears a cap when he knows paparazzi is around. Now while he looks awkward trying to hide his face, still think it has more to do with privacy.
But the hilarious part is Usher at the end of the vid.
To also note... Leo adopted a little African girl after meeting her in South Africa during the filming of "Blood Diamond" in 2006. He didn't adopt her in the traditional sense, he provides for her financially.
Side Note: The point is, the man doesn't just date one type of woman. That's just all the media reports on. Report accurately.
*
Folks can stop emailing me DEMANDING I take down the post that's mentioned above. Not gonna happen. Some fans go too far. The racist emails I receive are not uncommon. YOU aren't upsetting me, you're just making a fool of yourself. If you don't like what the hell I write.... don't read it.