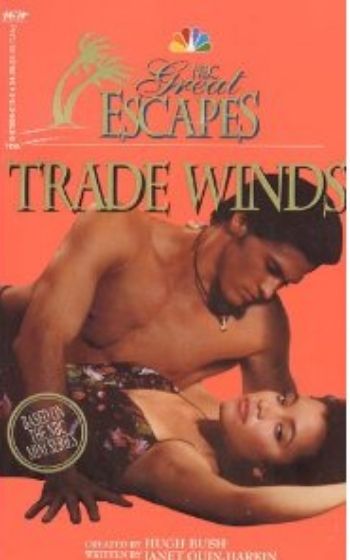 This mini-series has received various reviews from good to bad, and everything in between. But overall, the majority of the reviews are favorable. As it should be.
Originally broadcast in 1993 by NBC, the network pulled the mini-series before the last two hours were aired. The DVD was later released in 2004 and folks started grabbing it up, adding it to their movie collections.
TRADE WINDS is filled with exotic locations, interracial romance, intrigue, betrayal, forbidden love, feuding families and murder..... yup all the ingredients that make for one hell of a story.
Even though TRADE WINDS boast an ensemble cast, Michael McLafferty and Michael Michele have great chemistry in this mini series and were every bit 'Romeo and Juliet' like.
Plot [Via Amazon] -
A forbidden love affair blossoms on the gorgeous Caribbean island of St. Martin in this juicy tale of two feuding families vying for control of the island.
Family patriach Cristof Philips (Efrem Zimbalist, Jr.) attempts to bring the Philips and Sommers families together, but tempers flare when sparks fly between hunky island adventurer Ocean Sommers (Michael McLafferty, General Hospital) and exotic beauty Maxine Philips (Michael Michele, E.R.) newly engaged to another man.
Maxine's family warns her: "This Ocean has a riptide and he will drag you under!," but nothing can stop her from running out in a hurricane for a secret, rain-soaked night of passion!
Tensions grow when Ocean is accused of murdering Maxine's brother Chris in a scuba-diving mission for a cursed treasure, while her fiance is determined to see Ocean behind bars for the rest of his life. Now Maxine will do anything -make any sacrifice - as chaos erupts when the shocking truth behind Chris' death and long-hidden family secrets are revealed.