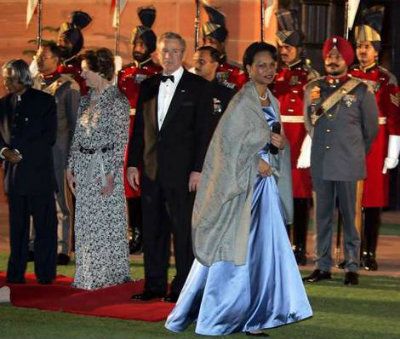 I was just thinking the other day how quiet former President George W. Bush has been for the last few years. After a turbulent eight years under his watch, it has been a breath of fresh air having President Obama as Commander-In-Chief.
So even though George W. Bush's tenure as POTUS is over, you'd think he would be more visible in public from time to time.
Look at former Presidents Bill Clinton and Jimmy Carter, they continue to make a huge difference for different causes and publicly bring attention to them. Even former Vice-President Al Gore has found success bringing climate change and environment issues to the forefront and most recently selling a news network [Current] he co-founded.
So it's a bit odd, well to me, that we really haven't heard a peep from a man who ran the country for eight years.
He wrote a book, titled, Decision Points, which I read; due to the fact that I really wanted to know what in the world he was thinking during his time in office. It was a very interesting read.
He did an interview with Oprah, which was quite entertaining and he and Laura Bush appeared back in May 2012 alongside the Obamas, for the unveiling of their [George & Laura Bush] portraits at the White House.
With all that being said, still it seems as though he has chosen a life of seclusion.
Yet another component to the 'quietness' is that of George W. Bush's former Secretary Of State Condoleezza Rice. They both seem to have chosen a more private life.
So then I recalled the rumors that started floating around on blogs and small newspapers about a possible affair between Bush and Rice. When I first heard the rumors years ago, I immediately thought it was complete fabrication. But the talk became more prevalent on political blogs and small pieces of bread crumbs suddenly started revealing startling coincidences.
A plethora of websites have blogged about this salacious rumor through the years, one in particular wrote a rather interesting write up with new details back in 2012.
A must read.
But first a few innocent photos that in context makes this story that much more scandalicious.
IJS
Via AfroSaxonHeat.Com:
George Bush And Condoleezza Rice Affair Revealed—Love Letters To Condi From Bush Found At White House
The Intimate love letters that that ex US president George Bush sent to his Secretary Of State Condoleezza Rice, have been found in a stash of missing White House emails and could spell curtains for the former President's long-troubled marriage, a close source reveals.
The love letters are part of 22 million electronic messages from the Bush administration that were thought to have been destroyed. The documents were recently recovered by computer experts after a watchdog sued the government to obtain information on other activities by top level Bush officials.
Sources say the explosive notes are bound to set off another round of fireworks between Bush and the former first lady. "These emails are the smoking gun" Said the source "It's likely the whole world will soon see them, and Bush won't be able to hide from his words."
The messages are believed to have been sent between March 2003 and October 2005, when sources say the Bush marriage was already strained. "George is absolutely panicking and shaking" a friend of America's ex-commander-in-chief reveals.
Rumors were rampant over the last three years that Bush,63, and Condoleezza, 55, were having an affair. The talk sparked bitter arguments between Laura, 63, and her beleaguered husband-and at one point she stormed out of the White House to spend the night at a nearby hotel.
Laura had her suspicions about what was going on between the pair but could not prove anything. A slip of the tongue by Rice almost gave things away when she referred to Bush as "My husband" at a dinner party in Washington- and Bush returning the compliment by calling Rice "My date" during an overseas trip together.
"The president says that during his lowest times he reached out to Condi and talked in detail about his loveless marriage to Laura–and once he even told Condi he wanted to be by his side" said the source.
Things got so bad that by the time the Bushes left the White House they were living in separate places. He is living on the ranch in Crawford, Texas, while Laura stays at the £2 million house in Dallas that he bought for her.
Now the newly discovered emails are sure to spell even more trouble for the ex-president, experts say. "Thought George and Condi have always denied having an affair, Laura never really believed him" reveals the source "There was too much smoke, too many rumors.
"Now if some of those 22 million emails turn out to be love letters to Rice, George is going to have a lot of explaining to do"
It's interesting to note that it would seem the "media" would really want to know what happened to those emails, especially in light of the recent Petraeus scandal.
But of course, this particular "scandal" could be covered up quite easily and emails disappear... for good.
It seems this story will remain a political urban legend.
*SipsTea*