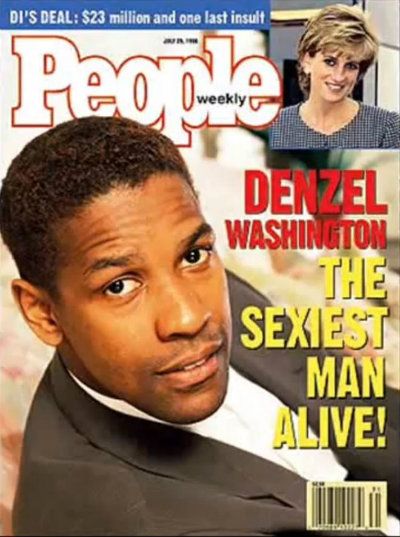 Congrats to actor/dancer Channing Tatum for being crowned sexiest man alive 2012 by PEOPLE magazine.
In taking a look back at previous winners, it seems to be lacking something. Can you guess what it is?
Here's a list of PEOPLE'S Sexiest Men Alive:
1985: MEL GIBSON
1986: MARK HARMON
1987: HARRY HAMLIN
1988: JOHN F. KENNEDY JR. [RIP]
1989: SEAN CONNERY
1990: TOM CRUISE
1991: PATRICK SWAYZE [RIP]
1992: NICK NOLTE
1993: RICHARD GERE & CINDY CRAWFORD [THAT YEAR THE TITLE WAS SEXIEST
COUPLE]
1995: BRAD PITT
1996: DENZEL WASHINGTON
1997: GEORGE CLOONEY
1998: HARRISON FORD
1999: RICHARD GERE
2000: BRAD PITT
2001: PIERCE BRONSAN
2002: BEN AFFLECK
2003: JOHNNY DEPP
2004: JUDE LAW
2005: MATTHEW McCONAUGHEY
2006: GEORGE CLOONEY
2007: MATT DAMON
2008: HUGH JACKMAN
2009: JOHNNY DEPP
2010: RYAN REYNOLDS
2011: BRADLEY COOPER
2012: CHANNING TATUM
Now you would think that whom ever decides the winner would opt not to choose a person TWICE. That screams lack of ability to do one's job. It's not like the pickings are slim. Two words... Idris Elba. Seriously.
Some folks may disagree, but this is ridiculous.
They're basically saying that out of all the SEXY MEN IN ENTERTAINMENT, they had to choose a person twice for the sake of what? Thank goodness for other mainstream magazines that know how to show diversity.
It's pathetic that out of PEOPLE'S twenty seven year SEXIEST MAN ALIVE history, only one AFRICAN-AMERICAN man has been chosen.
Honorable mentions inside the magazine don't count.