Actress Farrah Fawcett's cancer illness has now worsened and the actress is being taken care of by Ryan O'Neal, who recently spoke out about the remaining days of Farrah, who continues to fight this ugly and debilitating disease. My thoughts and Prayers go out to Farrah Fawcett and her family. Details below: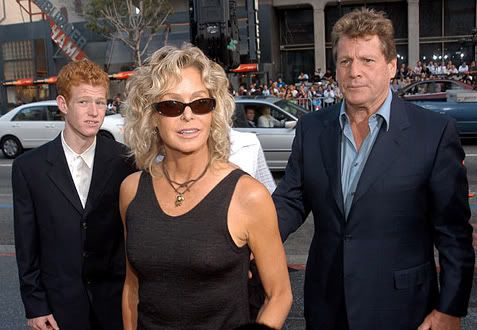 Ryan O'Neal spoke for the first time about the devastating illness of his longtime partner and mother of his child, Farrah Fawcett, who has battled cancer for the past two and a half years.

"It's a love story. I just don't know how to play this one. I won't know this world without her," O'Neal, 68, says of his current role as caretaker. "Cancer is an insidious enemy."

Revealing for the first time how the anal cancer long ago spread to other parts of Fawcett's body, including her liver, O'Neal says, "She stays in bed now. The doctors see that she is comfortable. Farrah is on IVs, but some of that is for nourishment. The treatment has pretty much ended."

Fawcett, 62, herself tells of her journey through illness in Farrah's Story a two-hour NBC documentary the onetime Charlie's Angels icon shot with pal Alana St
ewart that airs Friday, May 15.

Fawcett now spends her days at home, often asleep. "She stays in bed," says O'Neal. "It's a nice bed." She receives visits from a few close friends – including fellow Charlie's Angels stars Jaclyn Smith and Kate Jackson and, when able, likes to watch TV, especially Dominick Dunne's cable program Power, Privilege and Justice.

Another visitor has been Fawcett and O'Neal's son Redmond, who, behind bars for a drug-related probation violation, on April 25 was allowed three hours at home with his mother to say what might be his final goodbye. In his jail-issued jumpsuit and in shackles, Redmond is seen in the NBC documentary climbing into his sleeping mother's bed and crying. "Oh my gosh, my gosh," he says as he hugs the frail figure next to him. "Oh, my gosh."

"Farrah doesn't know Redmond's in trouble," says O'Neal. "And Redmond is terrified for his mother. 'I don't want to be in jail and have some guard tell me she is gone,' he said to me. I told him, 'She's rebounding.' I lied to him. I lie to her. It's the best thing." Redmond, meanwhile, is awaiting transfer to a lockdown rehab facility.