Gov. Sarah Palin went on the attack Saturday, after Levi Johnston, the baby daddy of her first grandchild, revealed all sorts of family secrets on an episode of "The Tyra Banks Show" to be aired Monday. Details below: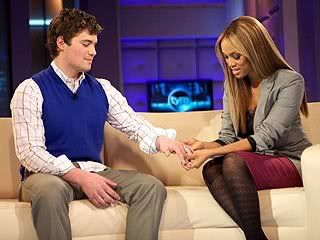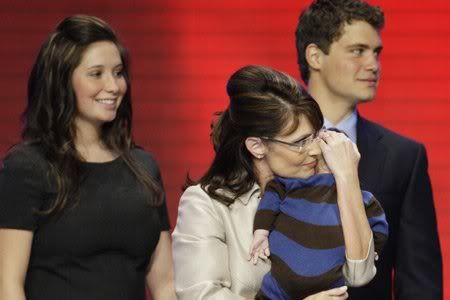 "It is unfortunate that Levi finds it more appealing to exploit his previous relationship with Bristol than to contribute to the well-being of the child," said a statement from a Palin family representative yesterday.
In the exclusive interview with Banks, the hockey hunk says the Republican vice presidential nominee knew that he was having sex with her daughter before she became pregnant.
"I'm pretty sure she probably knew," Johnston, 18, said. "Moms are pretty smart."
He also said his relationship with Bristol is on icy ground.
"Some days we can have regular conversations without fighting. Most of the times, I don't know what's wrong with her," Johnston said. "She's in a pretty bad mood, she's short, she doesn't want me around I don't think."
Sarah Palin countered that the high school dropout is just trying to extend his 15 minutes of fame at Bristol's expense.
"We're disappointed that Levi and his family, in a quest for fame, attention and fortune, are engaging in flat-out lies, gross exaggeration and even distortion of their relationship," said the statement.
Johnston said his relationship with Bristol Palin turned sour after the birth of their son, Tripp Easton Mitchell Johnston, in December. His family said they were snubbed the day Tripp was born.
Johnston's sister, Mercede, said her family was told nobody could be at the hospital, but then she "heard that all Bristol's family, cousins, aunts went in."
In the interview, the Johnston family reveals Bristol Palin, who became pregnant at 17, forced Levi to attend the Republican National Convention in September.
Mercede said, "Levi told me [Bristol Palin] called and said that, 'You're going,' and he said, 'I want to go hunting,' and she said, 'You're going.'"
Johnston said he decided to break his silence because of rumors and lies.
"It's time that we get our story out there," he said.