As previously reported on the "Chocolate Chick", Madonna is set to adopt a 2nd child. Congrats! Details below: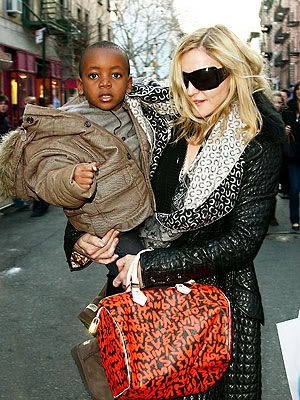 Madonna is heading to Malawi where she is planning to adopt a child, according to officials in that country. "We are expecting her this weekend," an official from the Ministry of Women and Child Welfare, which is responsible for adoption in the African nation.

The official says that Raising Malawi, the charity the singer established there, filed adoption papers for a baby girl, whose identity has not been revealed. "All is set for the adoption; all the paperwork is ready," he says.

Madonna is expected to appear in the High Court in the capital of Lilongwe next week to start the process for the second adoption. The singer's rep had no comment.

Madonna recently told Malawi's Nation newspaper that she wants a sister for her son David, 3, whom she adopted from the country. "Many people – especially our Malawian friends – say that David should have a Malawian brother or sister," she told the paper in a rare interview. "It's something I have been considering, but would only do if I had the support of the Malawian people and government."

David's father, Yohane Banda, says that officials from Raising Malawi visited him last week to alert him to Madonna's impending arrival. "I was told anytime Madonna is coming with my son and her other children," said the soft-spoken tomato and onions farmer in a telephone interview. "They didn't give me dates but they just said 'soon.' "