Rihanna wants Chris to apologize to Oprah on her show...she wants a public apology..and sources say at that time she will consider whether or not she will take him back. Details below: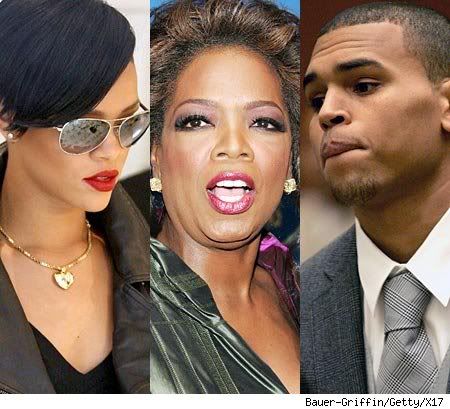 Just days from being arraigned on "making criminal threats" and assault charges, R&B singer Chris Brown is said to be considering a visit to Oprah's famous couch! Reportedly requested by Rihanna, Brown's apology comes on the heels of Oprah's rumored invite issued to Rihanna to come on the show and talk about her relationship with Brown and the alleged altercation Feb. 8.

Instead of visiting Oprah herself, Rihanna is rumored to have asked Brown to not only pay a visit to Oprah but apologize to her on the mogul's couch before the world. Sources affiliated with Look Magazine say "Rihanna has been talking to Oprah Winfrey on a regular basis since late February when Oprah begged her not to take Chris back. She's been having second thoughts about them being back together.""Agreeing to go on Oprah's show and tell the world how sorry he is will help make up her mind," the insider went on to tell Look Magazine.