Famed Directer George Lucas of "Star Wars" and "Indiana Jones" fame, is dating a woman of color.
George Lucas and girlfriend Meloday Hobson, president of Ariel Capital Management have been dating for several years and continue to enjoy a long term relationship.
George Lucas has an estimated net worth of $3.9 Billion Dollars.
Award Winning Actor Robert Deniro has long since been known to date and marry black women! Currently he is married to Grace Hightower, a former flight attendant, they have a son Elliot, born in 1998. They were married in 1997.
In addition to Elliot, De Niro has a son, Raphael, with first wife Diahnne Abbott. He also adopted Abbott's daughter (from a previous relationship), Drena. In addition, he has twin sons, Julian Henry and Aaron Kendrick, from a long-term live-in relationship with former model Toukie Smith. Raphael, a former actor, now works in New York real estate. De Niro lives in New York City.
DeNiro has also dated model Naomi Campbell and in the early stages of Whitney Houston's career...It is well known that Robert Deniro lavished Whitney with gifts and tried unsuccessfully to woo her. It's said that Whitney's Mother Cissy Houston..boxed up all the gifts Deniro sent Whitney and had them returned to him. Whitney was flattered but not interested.
DeNiro has been investing in the TriBeCa neighborhood in lower Manhattan.
His capital ventures have included co-founding the film studio TriBeCa Productions; the popular TriBeCa Film Festival; Nobu and TriBeCa Grill, which he co-owns with Paul Wallace and Broadway producer Stewart F. Lane, and finally The Greenwich Hotel,located in Tribeca, next door to another restaurant he owns, The Tribeca Grill.
Pic: Deniro and Current Wife Grace Hightower
Pic: Deniro and Ex-girlfriend Toukie Smith (Mother of Deniro's Twins):
Pic: Deniro and Ex-Wife Diahnne Abbott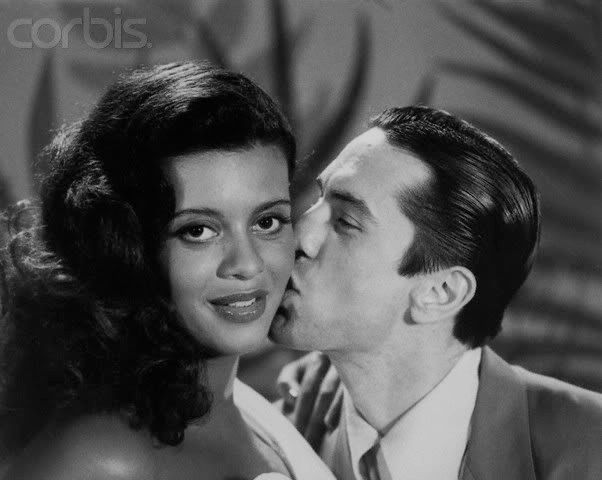 Rocker David Bowie is married supermodel Iman.
Bowie married his second wife, the Somali-born supermodel Iman Abdulmajid, in 1992. The couple have a daughter, Alexandria Zahra Jones (known as Lexi), born 15 August 2000, and live in Manhattan and London. Iman is also a savvy business woman who has launched her own successful cosmetics line, fashion line and in addition, is a writer.
Pic: David Bowie and Wife Iman
Iman and her daughter with Bowie (Lexi)
Actor Gerard Butler of the Mega Hit movie "300" and the current "RocknRolla" has publicly said "He loves black women..thinks they're cool."
Pic: Gerard Butler and a date
Pic: Gerard Butler and Eve
Former Prince Albert of Monaco, who is now Albert II, Sovereign Prince of Monaco;head of the House of Grimaldi and the current ruler of the Principality of Monaco has dated sistas on more than one occassion.
He is the son of Rainier III, Prince of Monaco and his princess consort, Grace Kelly. His sisters are The Princess of Hanover and Princess Stéphanie of Monaco. His mother Grace Kelly was also an extremely popular and successful American Actress. (Alfred Hithcock's Rear Window).
He has dated several black women, including model Naomi Campbell. In addition he fathered a black child (Alexandre Coste) with his ex-girlfriend Nicole Coste.
Today...Alexandre Coste should be about 6 years old.
Pic: Prince Albert and Ex-girlfriend Nicole Coste
Pic: Prince Albert and son Alexandre Coste
Pic: Prince Albert and Ex-girlfriend Nicole Coste w/ Friends
R&B singer Robin Thicke, who's having a blazing career, is married to actress Paula Patton. They're high school sweethearts and are still very much in love.
Pic: Robin Thicke and wife Paula Patton
Pic: Robin Thicke and wife Paula Patton
"Greys Anatomy" actor Justin Chambers is married to Keisha Chambers. They were married in 1993 and have 5 children. (They have 1 set of twins)
Pic: Justin and Keisha Chambers
Pic: Justin and Keisha Chambers with 4 of their 5 Children
Radio personality and actor Shadoe Stevens is the former host of American Top 40, heard by an estimated one billion people in 120 countries from 1988 to 1995.
He currently hosts the internationally syndicated radio show, Top of the World and is the co-founder and creator of Sammy Hagar's new rock station "Cabo Wabo Radio" broadcasting worldwide from the Cabo Wabo Cantina in Cabo San Lucas, Mexico.
Shadoe Stevens is still married to his 3rd wife Beverly Cunningham (a former international black model), whom he married in 1986. Stevens has three children, one son from his first marriage and two daughters with his current wife Beverly Amber Dawn and Chyna Rose.
His daughter, Amber Stevens is an actress currently appearing in the ABC Family Channel series "Greek". She made an appearance on the The Late Late Show with Craig Ferguson on July 27, 2007, with her father Shadoe Stevens to promote the show.
Pic: Shadoe and Beverly Stevens with their daughters
Television and film actor Ivan Sergei is married to Tanya Sergei. They have been married since 2003.
Pic: Ivan and Tanya Sergei
Pic: Ivan and Tany Sergei
Actor George Clooney dated actress Kimberly Russell for over 3 years in the 90's.
Actor Brad Pitt and Robin Givens dated back in the day before Brad Pitt was BRAD PITT!
Actor Matthew McConaughey and actress Salli Richardson dated several years ago.
Pic: Matthew and Salli at the "Wedding Planner" Premiere"
Interestingly enough..Matthew's current girlfriend Camilla Alves, who recently gave birth to their baby, looks like she could be Salli Richardson's sister.
Pic: Matthew and Current girlfriend Camilla Alves:
Successful director, producer and sometime actor (Head Of The Class,) Brian Robbins, has no problems dating black women.
He dated his co-star Robin Givens and was engaged to Holly Robinson...who is now married to Rodney Peete.
Brian Robbins is married to his black wife Laura Cathcart. They have 2 children.
Brian Robbins has produced/directed tv shows and films such as "All That", "What I Like About You", and currently produces the tv hit "Smallville"...He has directed movies like the mega hit "Norbit", "Meet Dave", "Varsity Blues", "Hardball" and "The Perfect Score" to name a few.
Brian Robbins co-owns a production company with Mike Tollin.
Pic: Brian Robbins and Wife Laura
Pic: Brian Robbins, Wife Laura, and their children
Former NBC news anchor Stone Phillips is married to his wife Debra and they have a son.
Pic: Stone Phillips and Wife Debra
Wolfgang Puck is an world renowned celebrity chef, restaurateur, and businessman based in Los Angeles. Wolfgang Puck restaurants, catering services, cookbooks and licensed products are run by Wolfgang Puck Companies, with three divisions.
His success enabled him to launch the Wolfgang Puck Companies which includes the Wolfgang Puck Fine Dining Group, Wolfgang Puck Worldwide, Inc. and Wolfgang Puck Catering. The Wolfgang Puck Companies encompass 15 fine dining restaurants, premium catering services, more than 80 Wolfgang Puck Express operations, and kitchen and food merchandise, including cookbooks and canned foods. He is the official caterer for the Academy Awards Governors Ball.
On July 7, 2007, Puck married Ethiopian-born Gelila Assefa, a Handbag Designer on the Italian island of Capri.
They have 2 sons, Oliver Wolfgang (born July 17, 2005) and Alexander Wolfgang (born December 20, 2006).
Controversial Political Talk Show Personality Bill Maher (Real Time With Bill Maher,) has always dated black women...every time he's out and about..his girlfriend or new date is black.
Bill Maher's show on HBO is hilarious and politically engaging.
A new season has just started on HBO..check it out..it's one of my faves.
Bill Maher has also had an on-again off-again relationship with Karinne Steffans.
Pic: Bill Maher introduces "then" girlfriend to Kevin Costner
Actor Troy Garity is the son of actress Jane Fonda and the grandson of iconic actor Henry Fonda. Troy's role in the movie "Barbershop" wasn't too difficult for him to portray.
Troy is married to Simone Bent. They've been happily married for a couple of years.
Rocker Kid Rock has a son with an ex black girlfriend.... A little drama there...let's just say Kid Rock wrote a song titled "Black Chick, White Guy"...I take from the lyrics...he and his ex didn't part on good terms...yet.
Anywho..the kids are innocent...so there you go.
Pic: Kid Rock and his son
Marc Ecko is an American entrepreneur and founder of the highly successful Marc Ecko clothing line and its parent company Marc Ecko Enterprises.
His businesses range from magazines, fashion such as Avirex, G-unit, and Marc Ecko Cut & Sew, interactive entertainment and other diverse interests.
He is married to Allison Ecko, whom he married in 2000.
Pic: Marc Ecko and Wife Allison
Pic: Marc Ecko and Wife Allison
More Royalty!
Prince Maximilian Nikolaus Maria of Liechtenstein is the second son of Hans-Adam II, Prince of Liechtenstein and Marie, Princess of Liechtenstein.
He is married to Angela Brown, now Princess Angela of Liechtenstein.
They have one son, Prince Alfons Constantin Maria, born in London, May 2001.
Pic: Prince Maximilian and Princess Angela
Pic: Prince Max, Princess Angela and their son
Pic: Prince Max, Princess Angela and their son
British Rock Group Def Leppard's Lead Guitarist Phil Collen is married to Helen Simmons, a Costume Designer.
Peter Norton, owner of the Norton Anti-Virus Corporation, is married to Gwen Norton.
Model Naomi Campbell is dating billionaire Vladislav Doronin. They've been together for over 4 years.
Actress Keesha Sharp, ("Why Did I Get Married?", TV Show "Girlfriends,) is married to singer/songwriter Bradford Sharp.

They've been married since 1997 and have 1 child.
Singer Heather Headley is married to her college sweetheart Brian Musso, a former New York Jets player.