Chief Executive Officer of General Motors, Rick Wagoner has "stepped aside" at the request of the Obama administration in efforts to overhaul a deteriorating U.S auto industry....Gots to go!Details below: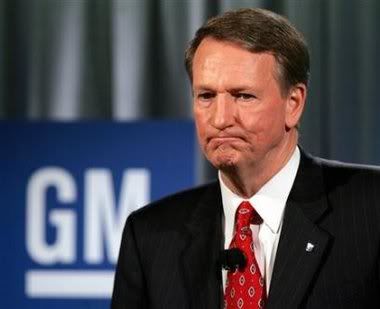 According to the New York Times, the White House all but terminated the GM CEO on Sunday and further concluded Chrysler could not survive as a stand-alone company and has been ordered to merge with Italian automaker Fiat within 30 days in order to secure the next round of government assistance. GM and Chrysler have until Tuesday to convince the Treasury Department that they can establish concrete sustainability in the long run. If they fail to succeed, the government may take back a collective $17.4 billion it has already contributed to both companies.

General Motors and Chrysler have been directly affected by the credit crisis that has plagued the U.S. economy in recent months, resulting in substantial losses and plunging auto sales. GM and Chrysler combined have suffered a 50% decrease in sales so far this year.

Wagoner's resignation takes place a day before President Obama is scheduled to announce the most up-to-date specifics of the federal plan to rebuild GM and Chrysler's infrastructures. A senior GM official told CNN that Wagoner agreed to step down after the administration's auto industry team "sent very clear signals" and suggested "new leadership" would promote significant changes. Washington officials were shocked by the Obama administration's hands-on approach to the restructuring of the U.S. auto industry, marking it the most involved government has been in big business since The Great Depression.

Today President Obama will present his plan to provide government secured warranties on GM and Chrysler vehicles in hopes to boost consumer confidence and stimulate sales. In a White House question and answer session last Thursday, President Obama explained that there has been "a lot of mismanagement of the auto industry over the past several years," and additional government funds would not be dispersed unless each company displayed a "willingness to make some pretty drastic changes."

As recently as March 18, Wagoner said he had no intention to resign. G.M. officials disclosed that an official statement will be issued after the president announces his reformation plans. According to CNN, current COO, Fritz Henderson is expected to resume Wagoner's position.