Actor Terrence Howard has had some domestic problems of his own, and details of his violent past have surfaced. Last week Terrence Howard went on record, on video in fact, voicing his initial support for Chris Brown. Details below: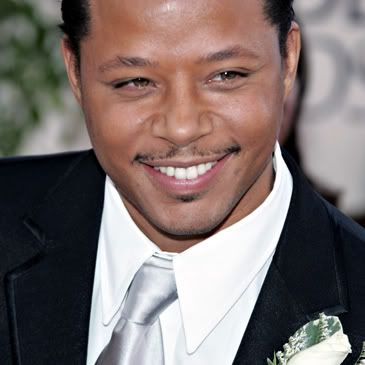 Howard told paparazzi that Brown is "a great guy." "He'll be all right," the actor said. "And Rihanna knows he loves her. She'll be all right. Just everybody's got to get out of their way." He later retracted his backing, stating that he wasn't aware of what the singer/dancer was accused of.

According to the SmokingGun.com, the Chrihanna incident hit home for Howard, as he was arrested eight years ago for assaulting his estranged wife. The website details that the actor was arrested by Pennsylvania authorities in September 2001 for assaulting Lori McCommas. Here's what The Smoking Gun is reporting:

The actor, who co-starred in "Iron Man" and was nominated in 2006 for an Academy Award for his role in "Hustle & Flow," was arrested by Pennsylvania cops in September 2001 for assaulting his estranged wife. According to a Whitemarsh Police Department report, after Howard and Lori McCommas argued on the phone, the actor warned, "Don't disrespect me by hanging up on me or I'll come over and hurt you." McCommas then "hung up and contacted 911 fearing Howard was serious."

While McCommas was speaking with a police dispatcher, Howard "showed up at the victim's residence and began breaking the door down." McCommas ran to the rear of the house and into the backyard. Howard then "broke the front door down and ran through the screen door in the kitchen. Howard then grabbed the victim's left arm and punched her twice with a closed fist in the left side of the face.

Howard was freed from custody after posting $20,000 bail and pleaded guilty in 2002 to disorderly conduct. He and McCommas divorced in 2003 but remarried in 2005. They have three children together, but are currently separated.

Well Dayum!