After Wednesday's announcement that Tameka Raymond left a Brazil hospital on Monday, photos of her departure were released on Thursday.

It's good to hear Tameka Foster is doing much better. Sources say she was in very serious distress. "God is good..and he never leaves us in our most troubled times." Details below: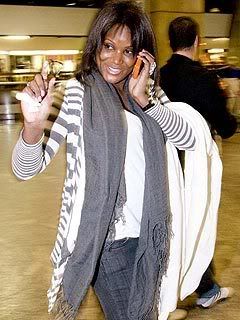 Raymond, wife of Usher, was seen at the Airport of Guarulhos, reportedly heading back home to the United States.

She had spent 11 days recovering from a cardiac arrest suffered immediately prior to undergoing plastic surgery.

"She left the hospital on Monday night," Mirtes Bogea, a spokeswoman for the Sirio-Libanes Hospital, told reporters. "We do not have any more information about her condition."

Ellen Dastry, a spokeswoman for plastic surgeon Silvio Sterman, who was to perform the "simple liposuction," said last week that Raymond, 38, suffered a cardiac arrest while being anesthetized for the procedure at Sao Paulo's Sao Rafael Hospital.